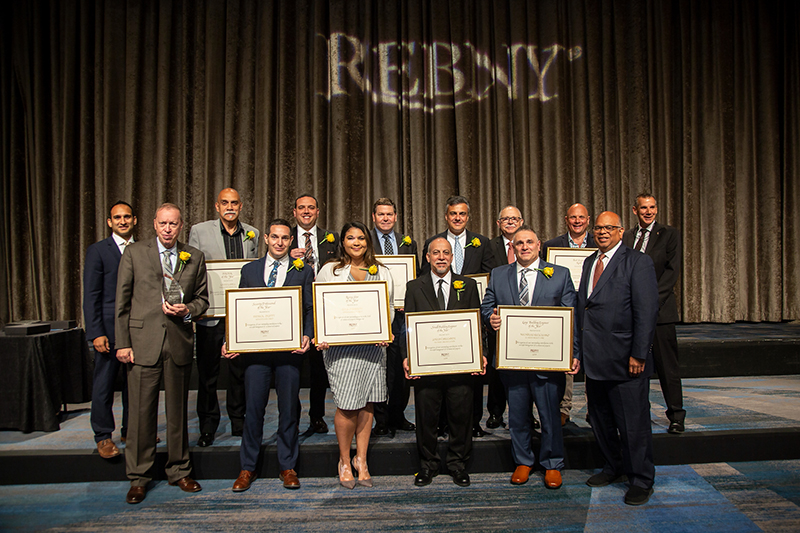 New York, NY Among the 10 awards presented to commercial property management professionals at the Real Estate Board of New York's (REBNY) 16th Annual Commercial Management Leadership Breakfast, Louis Trimboli was honored with The Edward A. Riguardi Commercial Management Executive of the Year Award. As a senior real estate manager for CBRE, he has implemented energy efficiency programs achieving $1 million in energy savings, completed two million s/f of tenant construction, and managed multi-million dollar-capital projects. Additional 2019 honorees include:
• Best Engine Room Award: Jeffrey Dietz, chief engineer, and George Leary, building manager, of Rudin Management's 3 Times Sq.
• John M. Griffin Community Service Award: Anthony Migliore, Jr., Empire State Realty Trust.
• On-Site Manager of the Year: Alex Riveira of Silverstein Properties.
• Portfolio Manager of the Year: Drew O'Connor, Cushman & Wakefield.
• Small Building Engineer of the Year: Joseph Brigante, The Durst Org.
• Large Building Engineer of the Year: Nicholas Ricigliano, SL Green Realty Corp.
• Security Professional of the Year Patrick Duffy, Rockefeller Group.
• Porter of the Year: Luis Lopez, The Paramount Group, Inc.
• Rising Star of the Year: Lela Doherty of Vornado Realty Trust.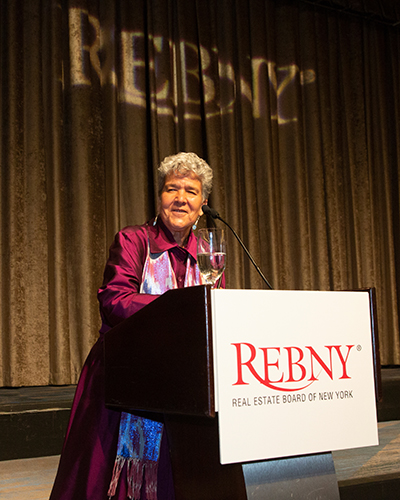 The event, held in the Grand Ballroom at the New York Hilton Midtown, included a keynote speech by Marisa Lago, director of the New York City Department of City Planning (DCP) and chair of the City Planning Commission (CPC).
In her remarks, Lago outlined the industry's economic impact stating, "As-of-right development is the workhorse of housing and space for jobs. Since 2010, over 80% of new housing has been built as of right. Without this development, about 300,000 New Yorkers–an entire Pittsburgh–wouldn't have the homes they live in today. Without it, we'd produce far less housing, be able to support fewer jobs and New York would also be increasingly unaffordable."
Top tier sponsors for REBNY's 16th Annual Commercial Management Leadership Breakfast included: 32BJ SEIU, ABM Industries, Atlas Acon Electric Service Corp., Benjamin Maintenance, Boston Properties LP, Brookfield Brooklyn, Brookfield Properties, Collins Building Services, Inc., Fisher Brothers, IUOE Local Union 94, Jones Lang LaSalle, L&L Holding Company LLC, Platinum, Quality Building Services Corp, Rockefeller Group, Rudin Management Company, Inc., Schindler Elevator Corporation, SL Green Realty Corp., The Durst Organization, Vornado Realty Trust, and Waterman Properties, LLC.
The awards presentation was hosted by Gaston Silva of Vornado Realty Trust, co-chair of REBNY's management division board of directors, and Paimaan Lodhi, senior vice president of policy and planning at REBNY. The award presenters included: Michael Griffin, representing the Griffin family; Anthony Malkin, Empire State Realty Trust; Howard Styles, IUOE Local Union 94; Héctor Figueroa, 32BJ SEIU; Ed (Eddie) Riguardi, representing the Riguardi Family; and Thomas Hill of Boston Properties LP, co-chair of REBNY's Management Division board of directors.