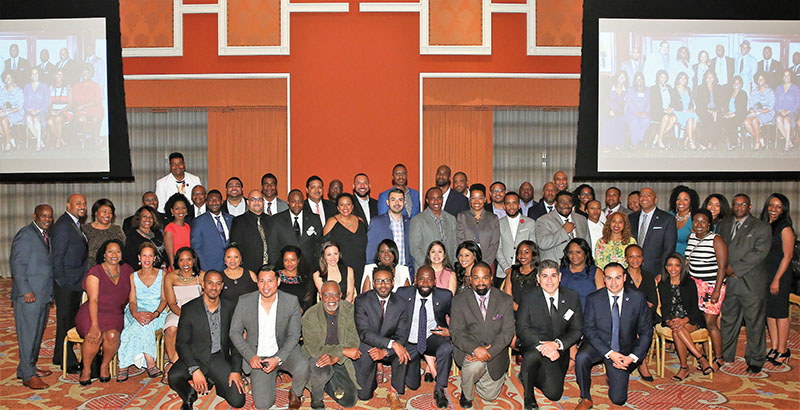 Las Vegas, NV "Today marks a rite of passage – 20 years of existence, 20 years since our founding" said Real Estate Associate Program (REAP) board chair Lamont Blackstone, CRX, principal, G. L. Blackstone & Associates LLC, addressing over 150 REAP alumni, retail real estate industry executives and other supporters at the May 20th REAP reception at the International Council of Shopping Centers (ICSC) RECon 2018 Global Retail Real Estate Convention held May 20 – 23. The reception celebrated the 20th anniversary of one of the nation's leading real estate diversity initiatives, whose over 1,000 graduates are helping to build the bridge between talented minority professionals and commercial real estate.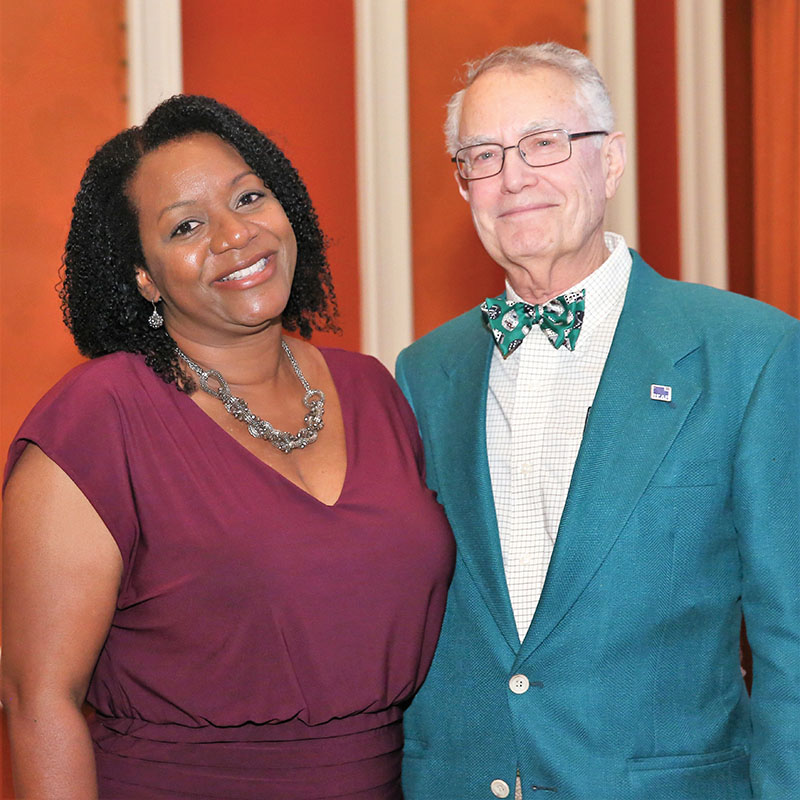 Since its initial program in 1998, REAP has implemented a multi-layered program of education, mentorship and strategic networking in nine key urban centers: New York City; Chicago; Washington, D.C.; Cleveland; Columbus; Los Angeles; Dallas; Kansas City; and Atlanta.
Blackstone outlined REAP's goals to reach by 2020 including having a REAP alum or volunteer member join the board of directors of a major real estate company; facilitating connections between REAP's nine markets; and becoming financially sustainable for the next 20 years and beyond. He said that his fourth goal was met this year when one of REAP's most notable alumni, Angele Robinson-Gaylord, (REAP Chicago '09), president of U.S. property at IKEA Group, was elected to the board of trustees of ICSC.
Blackstone paid tribute to REAP's founder, Michael Bush, noting that REAP would not exist if not for his vision. Bush told the audience that "the industry needs our talent" and pointed out that over 500 REAP graduates hold management positions in leading real estate companies today. He congratulated REAP alumni on "your achievements, your perseverance and your courage." He applauded and thanked REAP interim executive director Ken McIntyre and REAP associate program director Osayamen Bartholomew.
At RECon, REAP also hosted a panel discussion on Women in Commercial Real Estate, moderated by Starlett Quarles, managing director, The Bedford Group, LA. Speakers were REAP alumni: Robinson-Gaylord; London Kemp, director, studio real estate & facilities–worldwide operations, Netflix, LA; and Tamela Thornton, founding partner and principal, ESmith Advisors, a Dallas-based, CRE company, who was profiled by Bisnow as one of the women changing the face of CRE in Dallas.
The ICSC Partners in Diversity & Inclusion panel discussion featured ICSC president and CEO Tom McGee; NFL Hall of Famer Emmitt Smith, CCIM and chair, ESmith Advisors; Jocelyn Moore, sr. VP public policy & gov't affairs, NFL (a REAP alum); John Gates, CEO, Americas Markets, JLL; Wendy Mann, CAE, CEO, CREW Network; Lyneir Richardson, CEO, Chicago TREND (also the keynoter at REAP's recent NYC 2018 graduation). REAP was also represented at a Diversity Reception hosted by the ICSC Partners in Diversity & Inclusion and the ICSC Foundation where Kim Williams of Starbucks, VP of store development for South Central, Mid America and Western Mountain regions spoke.
For more information on Project REAP visit www.projectreap.org.

Thanks for Reading!
You've read 1 of your 3 guest articles
Register and get instant unlimited access to all of our articles online.

Sign up is quick, easy, & FREE.
Subscription Options
Tags: