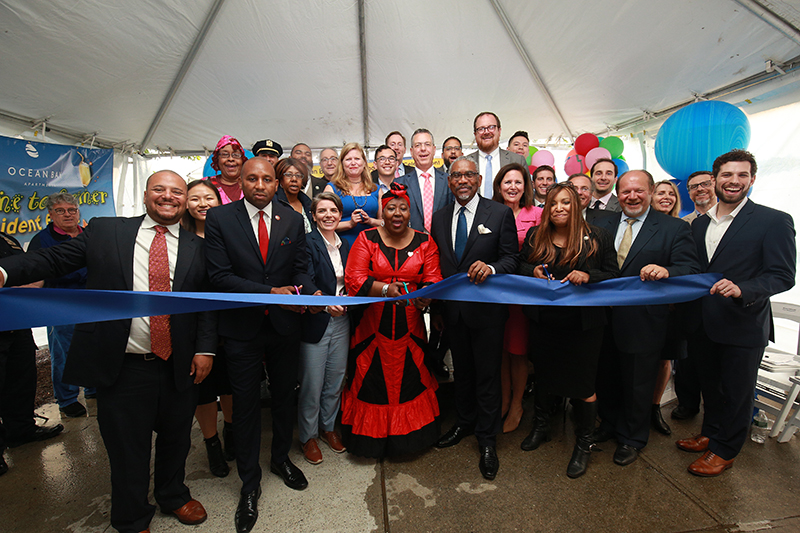 Queens, NY New York State Homes and Community Renewal, the U.S. Department of Housing and Urban Development, NYC Housing Authority, RDC Development (a joint venture between MDG Design + Construction and Wavecrest Management) and partners held a ribbon cutting to celebrate the completion of the rehabilitation of Ocean Bay Apartments, a 24-building, 1,395-unit public housing complex in Far Rockaway, located at Beach Channel Dr. between Beach 54th and Beach 58th Sts. The $560 million redevelopment was NYCHA's first and one of the country's largest single-site conversions under HUD's Rental Assistance Demonstration. The ribbon cutting ceremony took place before a kickoff to summer event.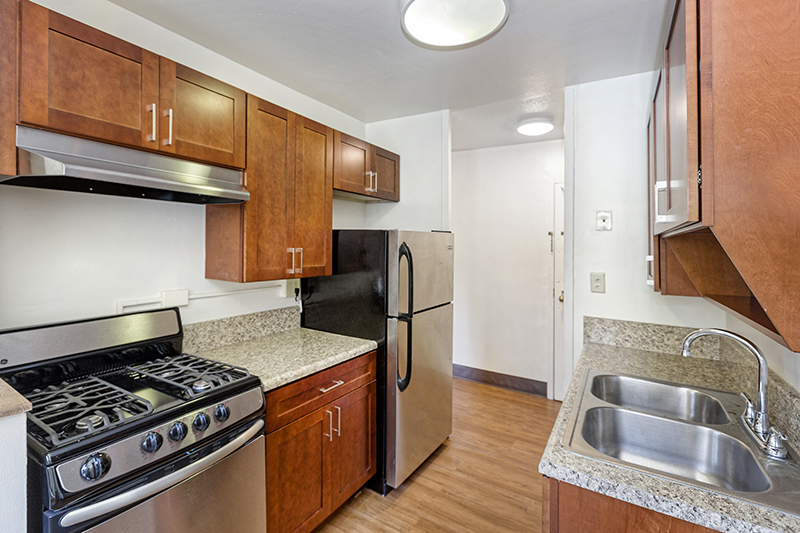 First built in the early 1960s, Ocean Bay suffered from federal divestment, followed by the damages incurred by Hurricane Sandy in 2012. Home to nearly 4,000 residents, Ocean Bay was in need of repair, from in-unit renovations to the major rehabilitation of building infrastructure. Completed in two years, the redevelopment features renovated kitchens – new flooring, appliances, sinks, cabinetry, LED lighting, and smoke detectors; entirely renovated bathrooms – new flooring, sinks, toilets, fixtures, cabinetry, LED lighting, and ventilation; and apartment-wide upgrades including new windows, flooring, and fresh paint. Through a phased restoration process, all tenants were able to remain living in their homes throughout the renovations. MDG Design + Construction was general contractor on the bond funded work and provided oversight of FEMA work. OCV Architects was the architect on the bond funded work.
HCR commissioner RuthAnne Visnauskas said, "Under governor Cuomo's leadership, HCR empowers Public Housing Authorities to access capital dollars that make it possible to reinvent and preserve public housing statewide. With our investment in Ocean Bay Apartments, we are ensuring that the development remains affordable, safe, and protected against future storms, while also improving the quality of life for nearly 4,000 residents. Congratulations to our many partners on this project."
In addition to in-unit renovations, the project included roof replacements, the complete upgrade of elevator machinery and equipment, improved public hallways, and the installation of new boilers and heating systems. With the goal of enhancing resident safety, the restoration included updated security cameras, improved interior and exterior lighting, and a new key fob entry system.
To ensure protection against future weather catastrophes, Ocean Bay received the third-largest solar panel installation at an affordable housing development in New York, a secure flood wall around the entire 33-acre site, water retention swales, stand-alone electric service buildings built above the flood zone, and the conversion of one central boiler steam system to 24 individual hydronic boilers on the roof of each building.
With the help of Catholic Charities Brooklyn and Queens, a core feature of the project involves the development and implementation of a comprehensive social services program designed to empower residents and enhance their quality of life. This includes access to mental health clinics, youth employment programs, food pantries, emergency assistance programs, and educational enrichment services. The project also features two new basketball courts, as well as the creation of Renewal Gardens @ Ocean Bay, which consists of 50 family plots within 2,400 s/f of community gardening space, providing residents with resources to learn about gardening and access fresh and healthy produce.
The $470 million in federal, state, city, and private investment consisted of more than $83 million in tax-exempt bonds and low-income housing tax credits from NYS Homes and Community Renewal that generated $170 million in equity, and $1.1 million secured via the investment tax credit generated from solar, and over $121 million in FEMA funds for resiliency measures related to the buildings. The Federal Emergency Management Agency (FEMA) provided $89 million for weather-resilient repairs for the site at the time of closing. Under RAD, Ocean Bay units moved to a Section 8 platform with a long-term contract ensuring that the units remain permanently affordable to low-income households, restricting rent to no more than 30% of resident income. The development and management partners were selected by NYCHA through a competitive RFP process.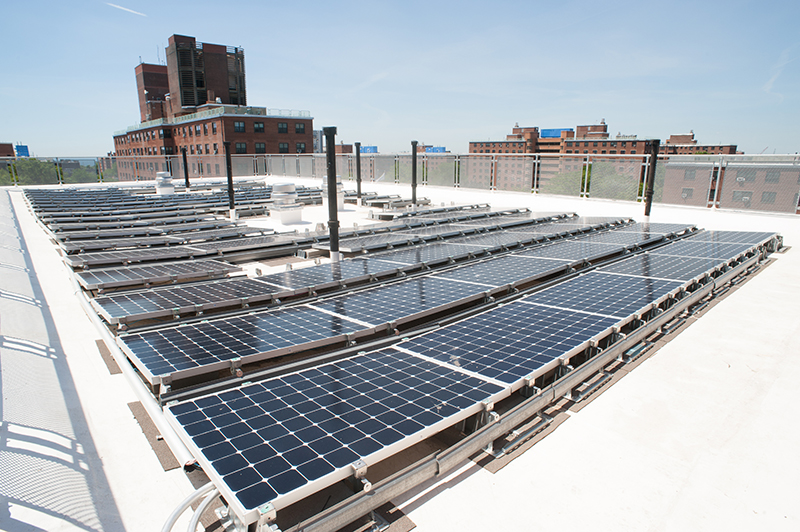 Congressman Gregory Meeks said, "In the decades since my family and I lived in public housing, the quality and conditions of these buildings have significantly deteriorated. Families deserve the dignity of not living in squalor, no matter their income. Thankfully HUD's RAD program gives us the tools to renovate these dilapidated buildings, and as a result, the Ocean Bay Bayside Apartments are now restored and better than ever. Residents can now rest easy knowing that they can live in housing that is safe, affordable, and more resilient to storms and flooding. Thank you to RDC Development and everyone who worked together to keep affordable housing livable for the residents of Far Rockaway."
State senator James Sanders Jr. said, "I am proud to support the restoration of the Ocean Bay Apartments, which was heavily damaged by Hurricane Sandy. This development provides vital housing to thousands of vulnerable residents and is an important part of the community. We need to ensure that Ocean Bay Apartments remains a clean, safe place to live. This renovation is just another testament to how Far Rockaway is coming back stronger and better than ever after Hurricane Sandy."
Queens borough president Melinda Katz said, "The renovation of Ocean Bay has resulted in a resilient and environmentally-friendly development of permanently affordable housing that will enrich the quality of life to Ocean Bay residents for many decades to come. The public-private partnership that successfully completed this innovative and energy-efficient project deserves to be commended for its commitment to creating a welcoming home for Ocean Bay's nearly 4,000 residents."
Council member Donovan Richards said, "For too long, New Yorkers in public housing have been treated as second class citizens. After extensive research and community engagement, it became clear that the fastest way to improve Ocean Bay Houses and provide residents with the safe, decent homes they deserve was through the Rental Assistance Demonstration (RAD) program. Since the first day MDG and Wavecrest took over, it was clear that residents would finally receive long overdue repairs and a vast improvement of quality of life, which has been sorely lacking for NYCHA residents. Tenants who have suffered for years living in dilapidated conditions, now have completely remodeled apartments that they are proud to invite friends and family over to visit. Thanks to the partnership of HUD, NYCHA, RDC Development and Ocean Bay tenants, today's ribbon-cutting is a true victory for the entire Rockaway peninsula."
Lynne Patton, HUD regional administrator for New York and New Jersey said, "One of the most rewarding projects I've had the honor to see develop into the largest and most successful RAD-1 project in the country is Ocean Bay. Since its groundbreaking a little over two years ago, it's become clear to me that today would not have been possible without the creative vision, commitment to community and tireless dedication of the Rooney family (MDG Design and Construction) and Susan Camerata (Wavecrest Management). They have not only transformed a distressed, decades-old property suffering from gross disrepair - destroyed by a storm - into a beacon of opportunity and hope, but they have also transformed the lives of the residents who now proudly call it home."
FEMA regional administrator Thomas Von Essen said, "FEMA is proud to have assisted NYCHA and the city and state of NY with rebuilding the Ocean Bay Bayside Apartments, providing $231 million, including $147 million for mitigation measures, under a flexible grant that allowed for the facility to not be just rebuilt, but made safer and stronger in the event of any future disasters. The innovations that FEMA introduced after Hurricane Sandy to meet the extensive needs of NYCHA after the storm are informing FEMA's efforts in the Caribbean, and across the rest of the country."
NYCHA interim chair and CEO Kathryn Garcia said, "Ocean Bay Bayside demonstrates what NYCHA, the community, and committed partners can achieve together to both address residents› immediate needs and preserve public housing for future generations. We thank HUD, NYS Homes and Community Renewal, MDG Design + Construction, Wavecrest Management, elected officials and local leaders, and most importantly the residents for their part in revitalizing their community."
Joan Tally, managing director of Morgan Stanley Community Development Finance said, "The restoration of NYCHA's Ocean Bay Bayside Apartments under HUD's Rental Assistance Demonstration program, with significant support from NYS Homes and Community Renewal, exemplifies the best of public private partnerships. We are pleased to help celebrate the upgrades that will improve the quality of life for residents and strengthen the community's resiliency for years to come."
Matthew Rooney, CEO of MDG Design + Construction and principal of RDC Development said, "The redevelopment of Ocean Bay started with the task of utilizing RAD on NYCHA units in an unprecedented way, and it is completed as a shining example of how collaboration and ingenuity can transform affordable housing, enhance the lives of nearly 4,000 people, create job opportunities, improve access to social service programs, and increase the safety of the Ocean Bay community. We are thrilled to see this project come to fruition, and proud to be a part of such an impactful and historic redevelopment. Thank you to our exceptional partners and engaged tenant community."
Susan Camerata, chief financial officer of Wavecrest and principal of RDC Development said, "This project speaks to RDC Development's unwavering commitment to the lives of residents and how quality of housing and quality of life go hand in hand. As we continue our role as managers, we are committed to maintaining the beautiful work done to restore the buildings and improve its systems, and continue to listen to, provide resources for, and strengthen the trust that we've built with our residents."
Matt Bissonette, director with Citi Community Capital said, "Citi is proud to have provided over $213 million of debt financing as well as a portion of the equity financing for Ocean Bay. This renovation has resulted in a safer, greener and healthier place to live for thousands of residents."
Margaret Anadu, managing director and head of the Goldman Sachs Urban Investment Group said, "We're proud to be a lead investor in the rehabilitation of Ocean Bay, an excellent model of how the public and private sector can come together to preserve and improve public housing for the lowest income New Yorkers. Given affordable, safe, resilient communities are vital to the future of New York, we hope to replicate this partnership with the public sector for families across the city."
Moshe McKie-Krisberg, vice president of Richman Housing Resources LLC. said, "Ocean Bay is a great example of the power that the Low Income Housing Tax Credit can bring to neighborhood community development."
Bridie Wheeler, chairwoman of Ocean Bay Community Development Corporation, said, "As a resident of the Ocean Bay (Bay side) for over 35 years, I never imagined that my quality of life could improve as much as it has since the RAD program was initiated here. I am so happy to be a part of this demonstration program."
Deputy inspector Vincent Tavalaro of the NYPD said, "Since the project undertaking in 2017, the NYPD and Wavecrest Management, particularly Tim Vance and his security team, has been a partnership that is second to none. When a request is made from my staff to management, it is not a question of can they accommodate, the response is usually when do you need it by. This collaboration has led to a measurably safer community for residents."
Msgr. Alfred LoPinto, president and CEO of Catholic Charities Brooklyn and Queens and Affiliate Agencies said, "Comprehensive social services is essential to providing stability to the most vulnerable in our society, and this project has allowed us to uphold our commitment to providing those in need with access to much-needed social services. Catholic Charities is pleased to be in a partnership that shares our commitment to improving the lives of the most vulnerable, and we are pleased to be providing the residents at Ocean Bay Apartments access to quality programs and services."

Thanks for Reading!
You've read 1 of your 3 guest articles
Register and get instant unlimited access to all of our articles online.

Sign up is quick, easy, & FREE.
Subscription Options
Tags: