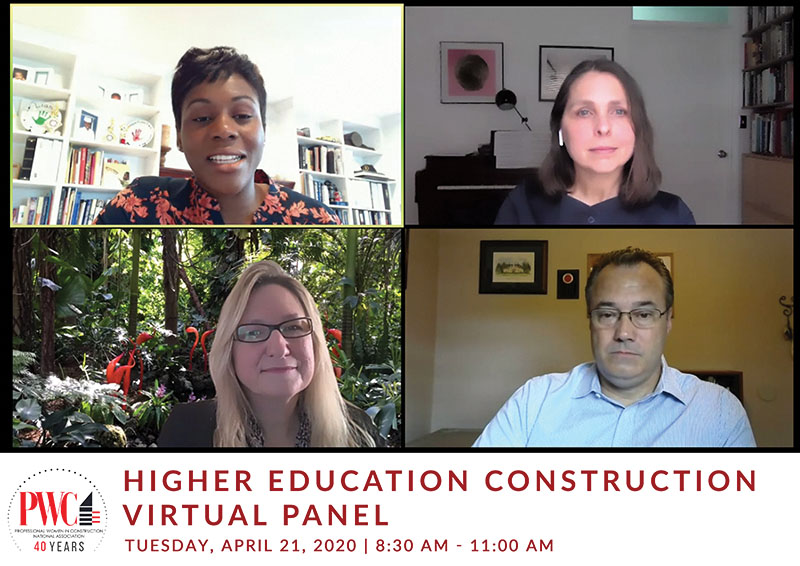 New York, NY On April 21st, Professional Women in Construction's New York Chapter hosted its first virtual panel event on Higher Education Construction. Laland Baptiste and DLR Group sponsored the morning event, which began and ended with online networking and breakout sessions so attendees and panelists were able to connect directly with each other.
The panel discussion was moderated by Schillivia Baptiste, CEO of Laland Baptiste and PWC board member. Panelists were:
Andrew Christ, PE, senior vp for real estate development and capital operations at NJIT;
Suzanne Musho AIA, NCARB, vice president, capital planning and facilities management, chief architect at NYIT; and
Kimberlae Saul, AIA, director of planning, design + construction at the Pratt Institute.
The discussion addressed the status and future of construction in institutions of higher education in the New York City area. The industry as a whole is changing in response to COVID-19, and the conversation covered the potential impacts to in-person and remote education, residence halls, safety, and continuing facilities work.
PWC will continue to provide events and opportunities for our community to connect online. Learn more about PWC, keep up-to-date on programming, and become a member, visit https://www.pwcusa.org/.
PWC New York is the founding chapter of Professional Women in Construction (PWC), a national nonprofit organization founded in 1980 that seeks to support, advance, and connect women and promote diversity within the architecture, engineering, construction (AEC) and related industries. Membership is open to professional women and men, private companies and public agencies in construction and allied industries.