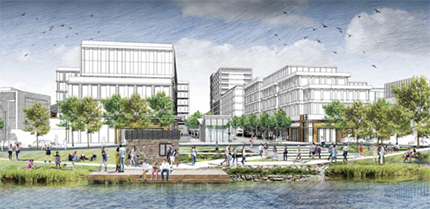 Twining Properties, a New York City-based developer enlisted by the New Rochelle City Council is slated to build the 12.5-acre waterfront town center that will feature residences, restaurants and shops and more. The project will house approximately 700 residential units, 80,000 s/f of retail space, a potential 200-room hotel, renovated armory and waterfront esplanade.
Philip Wharton of Twining Properties said to me recently, "Pratt Landing will have a range of retail, residential and recreational offerings. These will include restaurants along the waterfront, retail shops and specialty services along Pratt Landing that will connect the New Rochelle downtown to the Long Island Sound shoreline, for the first time. There will be a wide range of residential choices including rental apartments for young professionals, as well as larger luxury apartments, flats, duplex, and triplex townhomes, including some for-sale residences catering to empty-nesters that wish to remain in Westchester County, but with additional services and amenities and without the responsibilities of home ownership."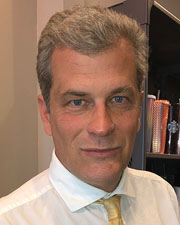 Wharton also said, "To take advantage of the waterfront location, there will be a long pedestrian promenade starting at the Post Rd. and extending all the way around the Pratt Landing shoreline, ending in a large open space that will have facilities for picnics and relaxation. Also along the waterfront, there will be two boat ramps, allowing easy access to the Long Island Sound for kayaks, canoes and paddle boards. The promenade will be open to the public. We expect to have office space, to cater to those residents who want a professional environment without the necessity to commute. Pending approval by N.Y. State, we hope to adaptively re-use the historic armory building and integrate it with the other activities at Pratt Landing, which may include an event space, food hall, micro-brewery and other uses that best take advantage of the history and grandeur of the armory."
"We are already engaged in discussions with potential operators. We have just completed an initial cleanup and stabilization of the armory building and its surroundings, at the request of the city of New Rochelle. Pratt Landing will offer the transition from the bucolic waterfront space to the vitality of the New Rochelle downtown, which is expected to have an additional 8,000 residents over the next few years. There will also be much open space throughout the twelve acres, and most of the buildings of the Pratt Landing neighborhood will be no taller than four to six feet stories, so while close to downtown, Pratt Landing will have a different feel, it will be less dense and feel less urban than downtown New Rochelle."
Phil Wharton continued, "As noted, Pratt Landing will consist of multiple building typologies, targeting a wide range of audiences, from owners of single-family homes seeking to downsize to young professionals seeking a serene environment that is nonetheless easy walking distance to downtown New Rochelle, as well as affordable housing for artists and less affluent residents. And we hope to attract the public to the shops, restaurants, events and recreation, but also those who appreciate a walk along the waterfront or the launch of a kayak in a beautiful setting. We also hope to include a hotel, depending on market conditions, that could welcome families, tourists and businesses to Westchester."
Wharton concluded, "Pratt Landing will be a unique addition to the development of New Rochelle. For the first time it will connect the downtown to the waterfront of the Long Island Sound. The size of the site will allow the creation of a new neighborhood - with a wide array of elements; many types of housing, retail and recreation that can only be accomplished in a project of this magnitude. Construction is scheduled to begin in 2021. On a personal note, as a Westchester resident myself, and as someone who has been involved in previous developments in New Rochelle, I'm honored - and frankly thrilled - to have the opportunity to bring Pratt Landing to fruition over the next several years."
Twining Properties held the first meeting to garner input from residents who would access the upcoming development on Long Island Sound. Approximately 50 city residents were came out for the debut waterfront district meeting and voiced their opinions on what they would like to see at Pratt Landing. The talk included a waterfront pathway, a boat launch and transforming the historic armory into a public marketplace. Other ideas bandied about were a trolley to the city's downtown, a brewery and restaurants with rooftop seating. Mayor Noam Bramson said, "An open, vibrant, clean, active waterfront would benefit the entire city enormously, so I am very excited about the possibilities."
Pratt Landing will be a revolutionizing accomplishment for a city that is already seeing the benefits of development in the past several years.
Matthew O'Shaughnessy is a contributing author, New Rochelle, N.Y.