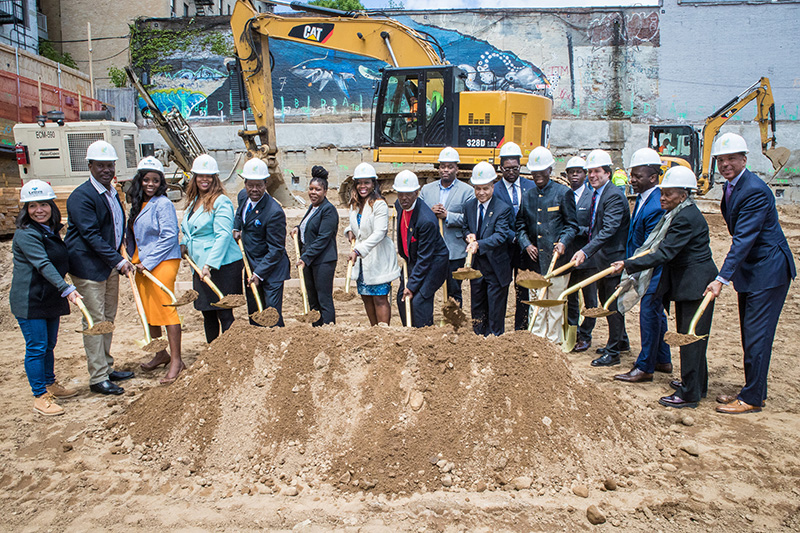 Brooklyn, NY The New York City Economic Development Corp. (NYCEDC), Department of Housing Preservation and Development (HPD), Housing Development Corp. (HDC), BRP Companies and project partners broke ground on Caton Flats, a mixed-use development that will contain 255 100% affordable apartments, 20,000 s/f of community space and a permanent home for the revitalized and expanded Flatbush Caton Market, a 20-year-old indoor marketplace through which a variety of Caribbean merchants can operate year-round. The project was designed by Freeform+Deform. The architect of record is Magnusson Architecture and Planning. In 2015, the NYCEDC selected BRP and Urbane Development to purchase and redevelop the property.
"We're thrilled to break ground on Caton Flats, a project that promises to bolster and revitalize the Flatbush community," said James Patchett, president and CEO of NYCEDC. "Caton Flats will provide affordable housing, community space and a new Flatbush Caton Market for all to enjoy. We thank our partner agencies, local elected officials, community stakeholders and development partners for their support and collaboration to deliver this project to the Flatbush community."
Located at the northwest corner of Caton and Flatbush Aves., Caton Flats will be a 14-story building that is poised to deliver:
• Just over 220,000 s/f of residential space for the affordable housing units.
• 6,000 s/f of space for the market, small business incubators and offices.
• 5,000 s/f of supplemental community space to be owned and operated by Caribbean American Chamber of Commerce and Industry (CACCI).
• 10,000 s/f dedicated to local retail.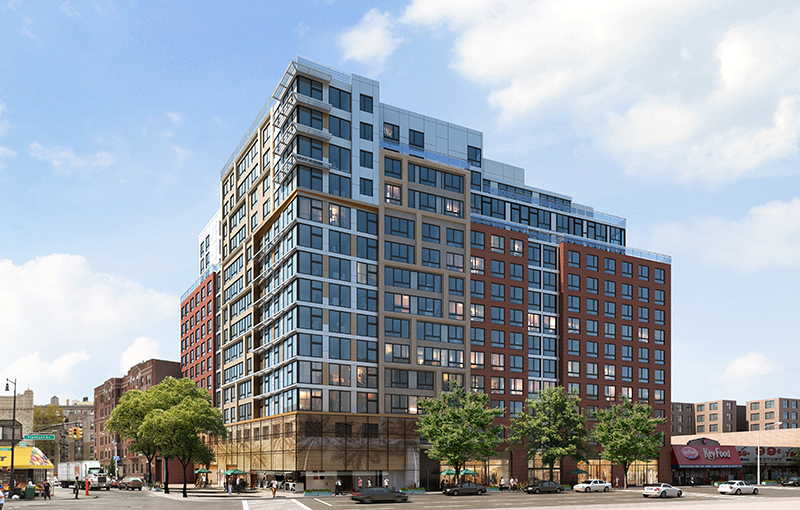 The residential units will range from studios to three-bedroom apartments and will be 100% affordable to a range of incomes from very low-income to middle-income households. Additionally, the development will also include the new Flatbush Caton Market on the ground floor, featuring upgraded amenities for the market's existing small business owners, expanded space for food vendors including a bar, café, and shared commercial kitchen, as well as flex space for the community.
"Caton Flats is an example of what can be achieved when real estate development is custom-tailored to the needs and culture of the local community," said Meredith Marshall, co-founder and managing partner of BRP Companies. "This project is a true partnership between many community groups and local leaders, connected in their commitment to serving the Flatbush community, and we're so excited to bring it to fruition."
On the second floor of Caton Flats will be a new permanent headquarters for CACCI and the Caribbean American Trade Center, which promotes small business development and trade and investment opportunities between the U.S. and the Caribbean.
"The groundbreaking ceremony is part of the extensive process of the redevelopment of the Caton Flats, formerly known as Flatbush Caton Market, which began in 2001," said Dr. Roy Hastick, Sr., president and founder of CACCI. "It is a critical step in strengthening Brooklyn's Caribbean American, African American and other minority communities."
The ongoing collaboration and partnership between NYCEDC, BRP Companies, CACCI and Urbane will focus on training and business development programs for local enterprise vendors, enhancing overall operations of the Caton Flats multi-use facility.
Urbane Development took over management of Flatbush Caton Market in fall 2017 and will continue to support vendors through this transition (the market still operates 6 days a week in its temporary location at 2184 Clarendon Rd. in Flatbush), while building out marketing and support services for the fully operational future space.
"Our vision is to position Flatbush Caton Market as the definitive destination for Caribbean commerce, entertainment, and culture in New York City. Our market program introduces food, fashion, art, and personal care products and services that leverage the vibrancy of the Caribbean community with a world-class retail destination in the heart of Flatbush," said James Johnson-Piett, CEO and principal of Urbane Development.
"I am proud to witness the groundbreaking for the redevelopment of the Caton Flats here in the community that raised me," said U.S. representative Yvette Clarke. "From providing business development programs to community building activities, this vital redevelopment will create mobility and foster greater resources in the Caribbean community. The Flatbush Caton Market will promote and uplift Caribbean history, businesses and commerce, entertainment and art, and more. It is a blessing that our community and the rest of New York City will be able to experience and share in the richness of our culture that is stored here in Flatbush."
"Breaking ground at Caton Flats is a positive development that has been a long time in the making for Flatbush," said Brooklyn borough president Eric Adams. "When completed, this project will provide hundreds of 100% affordable housing units while boosting our small business community. I am also thrilled that it will house the Flatbush Caton Market, a true community institution and a hub for Caribbean-American vendors. My administration recognized the potential of this site from the beginning, investing millions of dollars into the project to bring it to fruition, and I believe it should serve as a model for community-based development throughout the five boroughs."
"I want to commend the NYC EDC, the Department of HPD, and HDC, as well as the many community partners who have worked diligently to make Caton Flats a reality," said councilmember Mathieu Eugene. "Flatbush Caton Market was a cultural institution in our district, and I am pleased to be part of its transformation into a mixed-use development for housing and commerce. This project is an investment in the community, and should be a great opportunity for our hardworking residents, who have put so much of their energy towards supporting the local economy. It is my hope that by working together, we can continue to create new housing and business growth in the 40th district."
"Community Board 14 is pleased to play a role in a project that will suitably situate a pillar of our community – CACCI – with the exciting entrepreneurial and economic development opportunities that the market will expand upon, along with urgently needed affordable housing in our community," said Ed Powell, chairman, Brooklyn Community Board 14. "Community Board 14 has a poverty rate of over 20% and a greater percentage than the Citywide and Borough wide averages of residents who are severely rent burdened. We look forward to continuing to work with CACCI, Urbane, BRP and EDC as this project comes to fruition."
While the site is under construction, the Flatbush Caton Market continues to operate out of a temporary location at 2184 Clarendon Rd. in Flatbush. Construction is estimated to be complete by 2021, at which time the market will reopen at its original location.
NYCEDC selected BRP Companies in 2015 through a competitive process to redevelop the city-owned Flatbush Caton Market into a mixed-use building that includes affordable housing as well as the market. BRP Companies was the only respondent to offer a temporary location for the Flatbush Caton Market to operate during the construction period. Relocation costs for the vendors are being covered by the development team and Urbane Development is working closely with the vendors to provide additional support and mitigate disruption during the transition period.