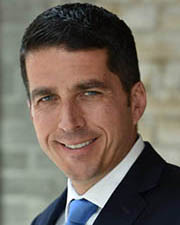 Manhattan, NY According to Rockefeller Group, the New York City-based property developer, owner and investor, Daniel Moore has been appointed president and CEO, effective April 1st. Moore, who joined the company in 2016, is currently executive vice president and head of the company's Urban Development business throughout the U.S.
Moore will succeed Dan Rashin and Tetsuya Masuda, who will remain co-presidents and CEOs through Rashin's planned retirement from the company on March 31st. The change is part of Rockefeller Group's long-term succession planning, initiated by the company's board of directors following Rashin's decision to retire.
"Dan's broad background in real estate development and capital markets, business development and investment management, make him the right choice to lead Rockefeller Group in its next phase of growth," said Rashin. "Together we have started to build strong momentum, with the largest development pipeline in our company's history, and I expect us to continue that expansion under his leadership."
According to Masuda, "Rockefeller Group has sharpened its focus in recent years on its Manhattan properties and on new development in our target markets nationwide, primarily in the office, multifamily and industrial asset types. Dan's leadership and hands-on expertise have been very valuable as we've grown our development pipeline and will continue to be extremely important to our clients, joint venture partners and investors as we execute on our existing projects."
Since joining Rockefeller Group, Moore has been an active and influential member of the company's Steering, Investment and Portfolio Committees. As head of Urban Development, he crafted a new vision for growth in major urban markets with a particular focus on New York City and Washington, D.C. In 2017, the company announced a joint venture with The Meridian Group on Boro Tower, a 437,000-square-foot trophy office building that is Rockefeller Group's first ground-up development in the Washington, D.C., region. In addition, last May the company acquired a development site assemblage and associated air rights in Manhattan's NoMad neighborhood for a new luxury residential project.
"I am honored to be selected for this position, and to succeed Dan Rashin and Tet Masuda," said Moore. "It's been a privilege to work with Dan again having been at the same firm earlier in our careers and it has been a pleasure to get to know and learn from Tet. What they have accomplished in a relatively short time is tremendous. That Rockefeller Group has a more active development business today than at any time in its 90-year history is a testament to their leadership, the strength of our team and the direction we are going on behalf of our employees, clients, partners and investors."
Over the past 10 years, Rockefeller Group has completed approximately 11.4 million s/f of development, the most active decade for the company since its inception. Notably, one-third of that total, approximately 3.8 million square feet, has been completed since the start of 2016, whenRashin and Mr. Masuda were appointed co-presidents and CEOs. The company's current development pipeline totals approximately 17 million square feet, the largest in its history.
Rashin joined Rockefeller Group in 2013 as a senior vice president of Investments, before assuming senior development roles for the company in New York and nationally. Mr. Masuda joined the company for the second time in April 2013 as chief investment officer.
Some of Rockefeller Group's most notable projects of the past two years include Flushing Commons in New York City, Amaray Las Olas in Downtown Fort Lauderdale, LIV Northgate in Phoenix, as well as AVE Florham Park and the Summit Medical Group MD Anderson Cancer Center in New Jersey. In addition, the company completed several large-scale industrial projects totaling 2.4 million square feet in multiple states.
In Manhattan, where Rockefeller Group recently finished renovations at 1221 Avenue of the Americas and is currently underway with a $600 million redevelopment of 1271 Avenue of the Americas, the company has completed more than 1.5 million square feet of leasing to companies including Major League Baseball, Mizuho Americas and Deloitte, among others.
Prior to joining Rockefeller Group, Moore spent 16 years with Hines in New York City and Washington, D.C., with roles in real estate development, investment management and capital markets.
Before beginning his real estate career, Mr. Moore served as a captain in the U.S. Air Force. He received an MBA from The Wharton School at the University of Pennsylvania, with a dual major in Finance and Real Estate, and a bachelor's degree in Civil Engineering from the University of Notre Dame.