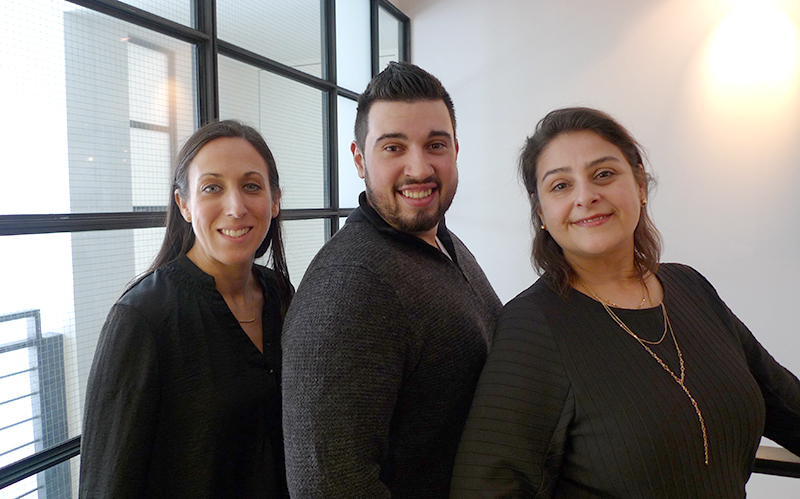 Greenvale, NY Mojo Stumer Associates (MSA) has hired three new employees: Sara Ambalu as director of marketing, Maureen Chavez as a project manager, and Mason Sofia as a designer.
Ambalu is responsible for graphic materials for internal and external communications, including newsletters and mailings, brochures, proposals, and awards submissions. She also works with various print, web and social media outlets, on a local, regional and national level, to promote and publish new, upcoming and recently completed projects. Prior to joining MSA, she was the marketing manager at Ennead Architects (formerly Polshek Partnership Architects) in NYC, where she worked for over six years. She has also worked in marketing and communications for Christie's Auction House and the International Culinary Center, both in New York City, as well as the Georgia Museum of Art in Athens. She is a graduate of the University of Georgia where she received a dual bachelor's degree in Journalism and Art History.
Chavez began her academic career in 1992 with an A.A.S in Interior Design and followed with BSAT in Architecture in 1998. With years of experience, she has a vast knowledge of materials and building systems under her belt. She has designed and documented a variety of spaces from high-end residential, retail, hospitality and institutional buildings all along marrying architecture and interior design passionately. Currently, she is pursuing licensure. She believes in integrating and giving back to her community and became a committee member of the Women in Architecture and the Emerging Professionals AIA Long Island chapter.
Sofia is a designer and has been with Mojo Stumer Architects since January. He has a background in art and working in construction with his father. Currently, he works closely on the design of high-end residential homes, commercial buildings, and corporate interiors. He is skilled in creating 2D drawings, 3D models, and presentations for their clients. He is passionate about modern design, and focuses in on the fine details that set apart their winning firm from the rest. He graduated from Carnegie Mellon University with a bachelor of Architecture in 2018, and a master of science in Architecture, Engineering, and Construction Management. He is working towards becoming a licensed architect.