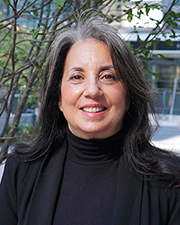 I started Audrey Signs in 1988 as a full-service sign design, manufacture, and installation company in New York City. We have been working with builders, building owners and managers, architects and designers for over 30 years, with a mission to empower clients with the most modern signage solutions that are not only fully compliant but also aesthetically pleasing. We have become experts at taking sign design concepts and turning them into a physical reality.
When we are working directly with architects from the beginning of a project, we put together the signage program, including wayfinding, branding, design and code compliance. We look at the blueprints and say "OK, this is good, this will work, but here is what's missing, and this is what we need to add." Often, we receive samples of materials that will be used in a space: rug, wood, tile, paint color, wallpaper, hardware, etc. The client may start off saying "I want nickel," because that's what the hardware is, and we'll give our expert feedback adding, "Yes, we can do that, but that will be rather expensive…why don't we use stainless steel with a finish that will give a similar look at a fraction of the price."
It is not the job of the architect to know the details of the sign industry; that's our job. We bridge the gap between an idea of what they think would look nice, and what can actually happen within the world of materials, signage codes, readability, and everything we know from our 30+ years of experience in this industry. We have been doing this for years, and that's an important factor: to work with a group of designers and materials experts who have a deep understanding and a long history of making signage work. The earlier we get into the conversation, the less potential there is for wasted time, effort and expenditure.
At Audrey Signs, we hire people who have a background in design as well as an understanding of how the physical world works. That goes for our installers, too. Yes, they have to know how to drill a hole, create a template, etc., but they also have to stop and look at a space and perceive it properly. A sign may be level, but there may also be a shadow coming in from a window that makes it look not level. They have to have very good hands, and a critical eye.
I came to start Audrey Signs through a background in fine art. I was an art major at the High School of Music and Art in New York City, and I earned my bachelor's degree in Fine Arts at Queens College. As a professional artist I am known as a colorist. I understand the relationship between objects and color, what emotional effects colors have, and what visual effects they have on environments.
One of the most important things that we bring to the table when it comes to wayfinding signage is the subliminal use of color. When it comes to wayfinding, our goal is to get people to move. For example, when people know that a blue sign is going to tell them where they need to go, they look for the color blue.
In situations where you're in a hospital or a caregiving facility, emotions are usually heightened, and you want to make sure people get to their destination without too much stress. You don't want them asking random people "where do I go?" We empathize with the person who is in a building for the very first time and doesn't know where they are going. We make sure the end user -the public - absolutely knows how they can get into the building, how to get to their destination, and then from there how to exit the building safely and without anxiety.
And we do it beautifully, so they have something nice to look at whether they know they're seeing it or not. There's so much more to signage than what meets the eye.
Harriet Black is the president of Audrey Signs, Inc., New York, N.Y.