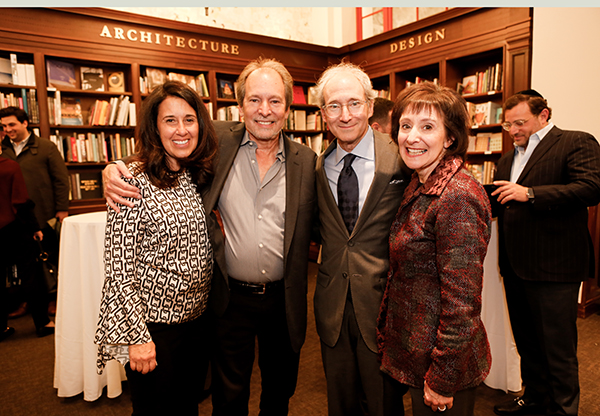 New York, NY MKDA, a national design firm with interior design studios in New York and Stamford and an innovative Miami architecture studio, has launched its year-long 60th anniversary celebration with the release of a historical memoir titled Milo Kleinberg and MKDA: Six Decades in Design.
The memoir chronicles the life of MKDA founding principal Milo Kleinberg and the rise of MKDA from a one-man interior design shop into the innovative national architecture and interior design firm it is today.
"As we celebrate our 60th year, we are pleased to share my dad's life story, and the story of how MKDA evolved from a boutique firm with a single focus into a powerful architecture and interiors brand with broad geographic reach and expertise in all real estate asset types," said MKDA president Michael Kleinberg.
With projects from coast to coast, MKDA designs strategic workplaces and advises leading building owners on development opportunities and how to brand and market their assets. The firm through its architecture studio has completed impactful high-profile hospitality, commercial, retail and mixed-use properties across the southeastern U.S. and the Caribbean.
MKDA partner Jeffrey Kleinber said, "Milo Kleinberg and MKDA: Six Decades in Design begins with a young boy who, along with his parents and sister, escaped Vienna after the Nazis took over, became a U.S. citizen, and started a trailblazing business that in its early years elevated the design industry in immeasurable ways. The memoir is a gift to my dad, his children and grandchildren, our associates and those who worked with us over the years, and a celebration of the firm's contributions to the industry."
MKDA contributions to the interior design industry are plentiful. The firm, an early pioneer in areas that are common practices in the industry today, was the brainchild behind the integration of project management into the interior design business model, embraced CAD technology in its infancy, and was among the first to provide Owners with services that include prebuilt programs and marketing centers.
MKDA's roots in real estate began in the 1960s when Kleinberg earned the moniker "King of the Garment Center" for his work on countless fashion showrooms. The firm soon solidified its reputation as a workplace leader and began to partner with many brokers and owners, including real estate legend Larry Silverstein, on their commercial assets.
Silverstein, who provided the book's Foreword, first learned of Kleinberg and MKDA over 50 years ago when he spent an afternoon touring office properties of the late owner and developer Sylvan Lawrence.
"After marveling at a new entrance to one of his older buildings, I asked Sylvan, 'What architect did that for you?' Sylvan replied, 'Milo Kleinberg.' We then went to another of his buildings that likewise boasted an exquisitely redone lobby. So I asked who did that. 'Milo Kleinberg' was the response. And on and on it went," said Silverstein. "It has also been extremely gratifying to witness the continued growth and evolution of MKDA, thanks in large part to the great work of Milo's sons, Michael and Jeffrey. As someone who also has children in the family business, I truly admire the way that Milo mentored his sons from an early age and instilled in them the same passion for the business that he possesses in such abundance."
That passion for the business has led to the continued evolution of the firm's brand with the addition in 2013 of the firm's innovative Miami-based architecture studio, a high-tech creative studio that impacts urban neighborhoods with compelling commercial, retail, hospitality and mixed-use architecture.
"Our dad's early life experiences gave him immense drive, persistence and passion. Those qualities, together with the talent and dedication of our associates, and a culture of customer service that exists across the organization, has fueled MKDA's success over the years," added Michael Kleinberg. "We plan to introduce a new, fresh brand at the culmination of our 60th year, but will continue to wear our respected and well-known legacy as a badge of honor."