NYSCAR's Board of Governors met at the Desmond Hotel and Conference Center on February 4, 2018 in Albany. Some of the meeting highlights include the following: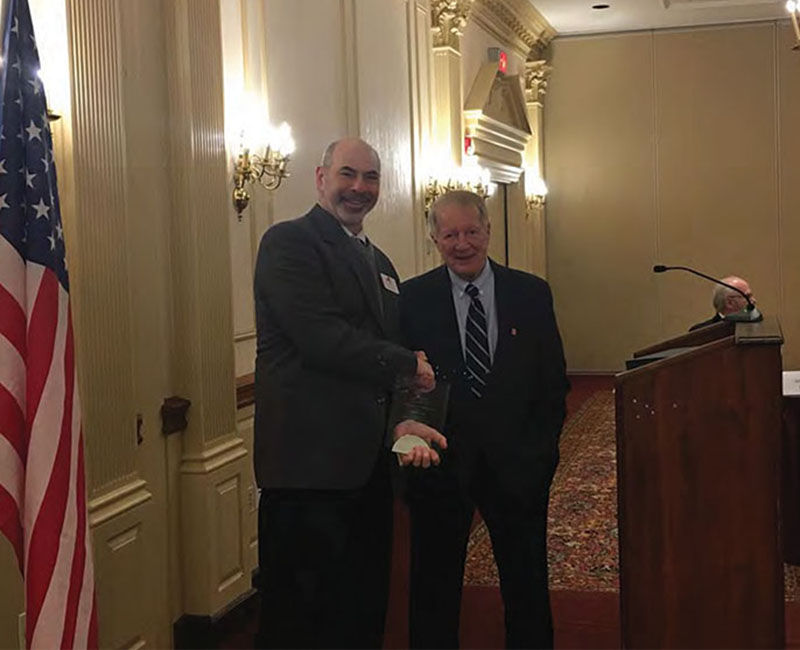 Feinberg named Realtor of the Year
During the Board of Governors Meeting on February 4, 2018, Jay Feinberg, managing director of the commercial division for Keller Williams Realty, Orange County, NY was named the recipient of the New York State Commercial Association of Realtors 2017 Realtor of the Year. The award was presented to Feinberg by Robert Strell, (Western NY Chapter) 2015 Realtor of the Year recipient.
The award is given each year to recognize an outstanding active member of the New York State Commercial Association of Realtors (NYSCAR). Always willing to lend his support and talents to NYSCAR, Feinberg was recognized for his commitment to excellence and his outstanding efforts on behalf of the New York State Commercial Association of Realtors, Inc. Feinberg serves on the Board of Governors of NYSCAR and has been serving as president of the Hudson Valley Chapter of NYSCAR since 2013, where he has done an excellent job. His untiring efforts are key to keeping the association a leading organization in the commercial real estate industry.
A licensed real estate broker, Feinberg owned Fine Commercial Properties, prior to joining Keller Williams. A graduate of RIT, Feinberg has a Bachelor of Science degree in Business Administration Management. Having completed numerous commercial real estate courses, Feinberg is currently a candidate for the prestigious CCIM designation.
Officers and Governors Installed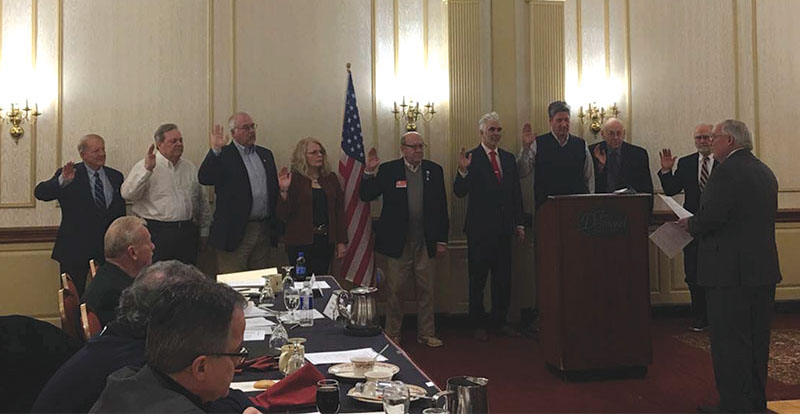 The following officers were installed on February 4, 2018 by Patrick Reilly, VP of board and member services, NYSAR:
• President, Guy Blake, CCIM, Newburgh;
• First vice president, James Walker, CCIM, Glenham;
• Second vice president, Ed Gallacher, CCIM, Hartford;
• Treasurer, Dana Crocker, Syracuse; and
• Secretary, Robert Strell, Buffalo.
The following governors were also installed: Mercedes Brien, Rochester Area Chapter; Robert Giniecki, CCIM, Greater Capital Chapter; Jim Kelly, CCIM, Greater Syracuse; Jerry Norton, CCIM, NYC/Long Island and Jim Knight from the Western NY Chapter.
Annual Conference Plans Well Underway
Plans for the 17th Annual NYS Commercial Real Estate Conference are well underway under the chairmanship of James Walker, CCIM. Mark your calendar and plan to attend, June 4-6, 2018 at the Turning Stone Resort & Casino in Verona. This year the conference is hosted by the New York State Commercial Association of Realtors, the Upstate Chapter of CCIM, the Society of Exchange Counselors and the National Council of Exchangors. There will be several continuing education classes, a world-class investment marketing session and great networking.
If your company is interested in being a sponsor of the event, go to www.nyscar.org for a sponsor form. Watch for details coming soon!
Guy Blake, CCIM, is the president of NYSCAR and is an associate real estate broker with Pyramid Brokerage Company, Newburgh, N.Y.