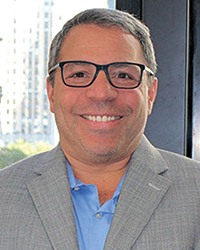 New York, NY Bruce Manning, CTS-D, has joined Shen Milsom & Wilke (SM&W) as an associate principal, audiovisual.
With nearly 40 years of relevant design and AV industry knowledge, Manning grows the firm's integrated communications technology team's experience and brings a fresh perspective to SM&W. Manning has managed and designed complex projects in various environments, which include managing stakeholder expectations and owning the delivery of project objectives. With his attention to detail and focus on task completion and turnover, he thrives off the challenge of working with intricate, diverse and sophisticated projects.
Rob Haddad, principal and ICT manager, said "As a Brooklyn native, Bruce has a great reputation in the local market. On top of that, he is well known and respected in the AV industry through his vast project work, technical skills, and audiovisual knowledge. Having Bruce as part our team really demonstrates the value that SM&W places on having the best talent as part of our team."
Manning has worked on many projects during his tenure in the AV Design world. His projects have ranged from $20,000 to $35 million in financial scope.