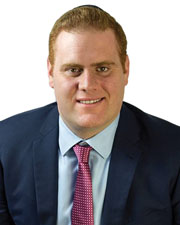 Brooklyn NY Juniper Capital Group secured a $5.15 million cash out refinance loan from Greystone for a 10-unit multifamily.
Juniper Capital's Nate Lowy negotiated loan terms that included a 10-year, fixed, full term IO, and a J51 holdback.
The newly built 10,000 s/f, four-story brick building, features 10 units and a gym in the basement in the Prospect Lefferts Garden neighborhood.
According to Lowy, "The borrower was in advanced stages of the negotiating the J51 but it wasn't in place so the lender appraised the building as if the J51 was in place and held back the value.
"We were delighted to bring the borrower A long term fixed loan with a full term interest only. With the upcoming elections a lot of borrowers are uncertain what lies ahead for rates and are choosing to take longer term fixed debt," Lowy said.