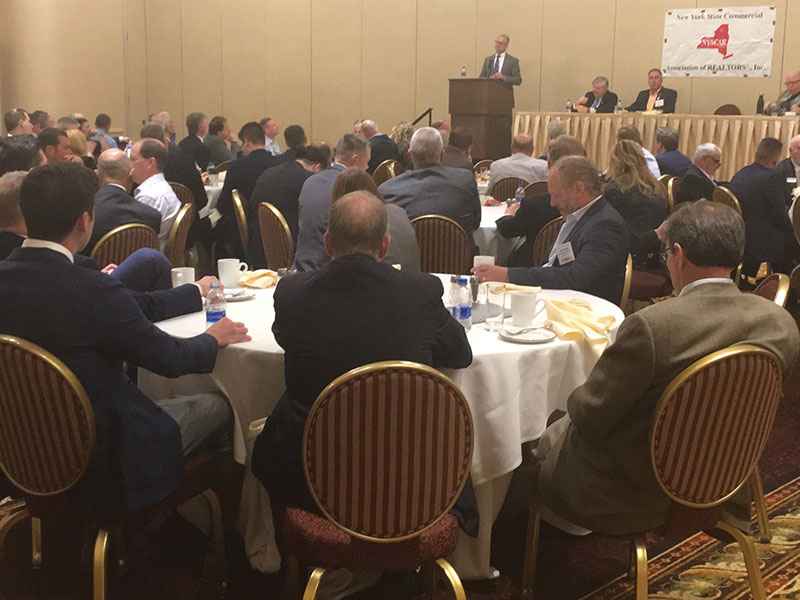 Attendees had a great time during the Annual Conference this year and took advantage of continuing education classes, an investment marketing session and great networking.
The 18th annual NYS Commercial Real Estate Conference was held June 3-5 at the Turning Stone Resort and Casino in Verona. The conference, chaired by James Walker, CCIM (Hudson Valley) was hosted by the New York State Commercial Association of Realtors, the Society of Exchange Counselors, the Upstate Chapter of CCIM and the National Council of Exchangors.
Each year we have great support from our sponsors and this year was no exception. We are in debt to the following organizations for their fantastic support of the event:
Diamond Sponsor: Cushman & Wakefield/Pyramid Brokerage;
Platinum Sponsors: Exchange Authority, LLC;
Gold Sponsors: New York Real Estate Journal, SABAL and Ten-X Commercial;
Silver Sponsors: Beardsley Architects & Engineers, The Chazen Companies, CIREB, Greater Rochester Assoc. of Realtors, Empower FCU, Harris Beach, PLLC, Hudson Valley Economic Development Corp., NorthMarq, SVN/Realty Performance Advisors, SVN/Deegan-Collins Commercial Associates and Stewart Title.
Almost 100 attendees took part in the popular investment marketing session, moderated by Chuck Sutherland, SEC and Peter West, CCIM, looking for buyers or properties for their clients. It was a great session to network with commercial colleagues from across the state and beyond.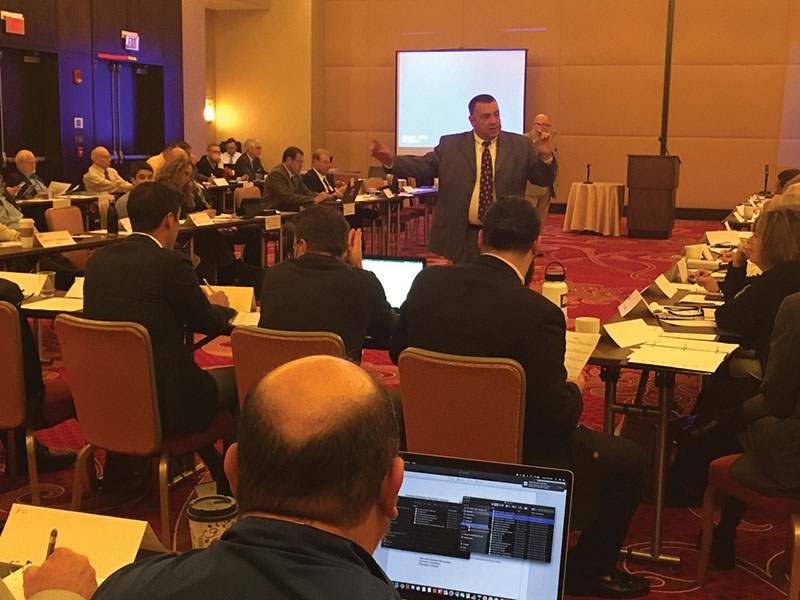 Attendees had the opportunity to join round-table discussions during breakfast prior to the marketing session. Thanks to Gordon Furlani and Bob Giniecki, CCIM for organizing the session with subject moderators Karen Klecar; Laurie Tylenda, SIOR; Chuck Sutherland, SEC; Paul Hakim, CCIM; and Ed Gallacher, CCIM.
Course instructors Terry Watson; Chuck Sutherland, SEC; Stanley Gniazdowski, CRE, CCIM; and Ken Guilfoyle, GAA did a great job this year. Terry gave an eye-opening class on data security which was amazing. Chuck taught classes on marketing and deal-making tips which were also well received by the attendees, Stan taught a basic and advanced excel class and Ken instructed the fair housing/agency class (required for licensee renewal) which was well attended.
Mike Kelly, director of government affairs at NYSAR brought the attendees up to date with legislative activities in the state. The crowd always looks forward to hearing from Mike. Peter Karl, III, JD, CPA; Justin Miller of Harris Beach; and Amanda Shisler of NorthMarq discussed "Opportunity Zones" on a panel moderated by Paul Hakim, CCIM which was very informative to the attendees.
The welcome reception featured a "Real Estate Jeopardy" game testing attendees' knowledge on commercial real estate and Copper City Brewing from Rome, N.Y. offered a tasting of their beer and cider products. Many thanks to Mercedes Brien for her untiring efforts to bring a new event to the conference.
We all appreciate the time and effort by the Planning Committee to have such a great event. Hats off to James Walker, Mercedes Brien, Dana Crocker, Gordon Furlani, Ed Gallacher, Robert Giniecki, Mike Johnson, Jim Kelly, Jon Kelley, John Lavelle, and Joe Rowley.
Guy Blake, CCIM, is the president of NYSCAR and is an associate real estate broker with Pyramid Brokerage Company, Newburgh, N.Y.