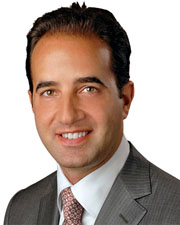 Name: Jared Horowitz
Title: Vice Chairman
Company Name: Newmark
What aspects of working from home did you enjoy most?
Working from home created many challenges. Although once you adjust to kids screaming, dogs barking and spouses talking in the same room, you learn to create a routine that works. The normal demands of our job cause us to be away from home for 12-14 hours a day. However, since March I've been allowed to eat three meals a day with my kids. I also got a sneak peek into their daily routines at school and had the additional "free time" to dramatically improve my golf game. The pandemic shook us out of our routine and now we can better understand our families and appreciate life in different ways. While tensions were up, so are the memories and those will last forever.
What was the most challenging part of working during the pandemic?
Our business is a people business, everything we do from preparing for client presentations to touring clients or prospective tenants through office availabilities and even negotiating leases are done in person. Not being able to do that has created the biggest challenge for us. Not being in the office to help develop the brand/culture and mentor our younger employees add to the list of challenges/frustrations. Fortunately, the challenges we've experienced have forced us to pivot and accelerate into a new way to do business. Given the nature of our business is "sales," we will always prefer to be "in-person" but Zoom/Teams calls are here to stay and performing client presentations or presenting availabilities can now be performed virtually.