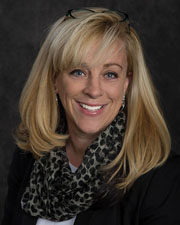 Amherst, NY According to Howard Hanna Real Estate Services, Alicia Wittman has been named as the new branch office manager of the company's Crossroads location at 3195 Niagara Falls Blvd. Wittman has spent the previous few years as a member of the Howard Hanna Commercial Division, serving clients in both the Buffalo and Rochester markets.
With prior experience as a territory manager and business owner, and currently a landlord, Wittman has a unique perspective to bring guidance and growth to her sales professionals.
"Alicia's experience and consultative approach are invaluable assets to our agents at the Crossroads location to help them not only build their businesses, but become better all-around," said Matthew Whitehead, senior vice president and general manager of the Greater Buffalo Region for Howard Hanna.
"I am absolutely thrilled to join the residential team. I intend to make our Crossroads location the destination residential sales office for agents in both Erie and Niagara Counties," said Wittman.