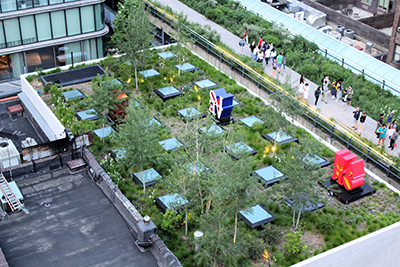 Manhattan, NY Regional fenestration and architectural metals specialty supplier Gamco Corp. fabricated 28 architectural skylights for the new Kasmin art exhibition space at 509 West 27th St. Placed atop openings in the honeycomb ceiling, the 28 skylights illuminate the gallery space below with balanced natural light. Located adjacent to the High Line near 10th Ave., the new gallery building features a 5,000 s/f rooftop garden with changing sculpture exhibits positioned around the 28 skylights, all of which can be viewed from the adjacent High Line pedestrian elevated walking path. Rather than an adapted warehouse space, this is a newly constructed purpose-specific facility and is the fourth Kasmin gallery in the Chelsea neighborhood.
Gamco Corp. was asked to fast-track fabrication of the skylights for the new building by project developer Related Companies and general contractor IPD Partners. The developer and general contractor made several revisions to the skylight specifications before final fabrication began, and Gamco accommodated all the changes with design recommendations and samples fabricated for approval.
The 28 Gamco Series SK2000 skylights were curb mounted 5-degree slope single pitch 58" x 58" square units. The skylight structures each used 0.125" wall thickness 2" x 2" extruded aluminum perimeter rafters with integral condensate gutters installed atop 1-¼" x 5-9⁄16" frame base aluminum subsills. The aluminum skylight frames feature a dark bronze anodized finish.
The installer finished the skylight curb mounting with interior flashing and an insulated metal cladding exterior apron framing the skylight perimeters. For strength, safety, and energy efficiency, the installer glazed each skylight at the jobsite with a 1-1⁄16" thick tempered and laminated dual pane insulated glass unit (IGU). A ceramic frit coating was used on one glass surface to diffuse and balance the light falling upon the interior space.
The greatest challenge Gamco experienced for the project was the fast turnaround required by the general contractor. "We were asked to fabricate all the skylights within 30 days from the final sign-off on the specifications," said Johnson Chen, general manager for Gamco Corp. "To meet this deadline, we ran double shifts and delivered the skylights as they were completed directly to the job site. This project is a perfect example of how Gamco's fabrication expertise and adaptable production capabilities can meet even the tightest construction schedules. We are very pleased to have contributed to the successful completion of this gallery in time for its opening."
The owner of the new art gallery building is Paul Kasmin. The building was designed by Studio MDA. The project developer was The Related Companies, and IPD Partners acted as general contractor. The skylights were installed by Seoul Metal and Glass of Jackson Heights and the insulated glass units were fabricated by Oldcastle of Hauppauge using Vitro Architectural Glass.