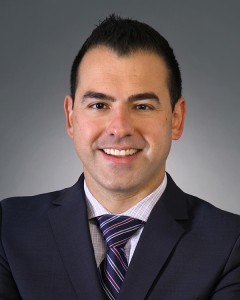 Christian Giordano, Mancini Duffy
New York, NY Christian Giordano was already an acclaimed designer, well respected for his work with technology and media giants including HBO, ESPN and Disney, when he was named to Building Design + Construction's "40 Under 40" Class of 2013. That same year, brought together by a mutual industry colleague, he was approached by Ralph Mancini with an offer to join his firm, Mancini Duffy.
A New York City-based architecture firm on the verge of its centennial anniversary – which it has since celebrated in 2015 – Mancini Duffy was resting solidly on a history of interiors work primarily for financial service and law firms, but was in need of a renaissance. The timing was perfect and Giordano quickly proved to be exactly the next generation of leader that Mancini was hoping to find for his namesake firm. Less than one year after coming on board, Giordano was named president of Mancini Duffy in October of 2014.
Giordano's work as a designer, specifically in creating workplaces for his clients that would attract and retain talent, was formative in helping him prepare for his role as president. Said Giordano, "I have always seen design as a collaboration with the clients and users of a space or building. My job was to learn their business and translate it into design. The most successful design projects I have worked on always had their employees' best interest in mind."
This employee-first mentality would prove fundamental when Giordano turned his attention and skill set inward to reinvent the Mancini Duffy culture. Rejecting the unspoken notion prevalent in many architecture firms where staff are expected to "pay their dues" through long hours and tedious production work, Giordano encourages a culture where all team members, at every level of the organization, can feel like they are an important part of something larger.
He also places a great deal of trust in the firm's staff. Said Giordano, "I want our employees to know that their ideas are as good, and probably better, than mine." He recalls a project completed at his prior firm, the 100,000 s/f broadcast news and office facility for WPVI-TV in Philadelphia, where the client similarly entrusted him to great result.
"WPVI is where I came into my own as a designer and a team leader. The client trusted me and my design ability and I stepped up to prove her right," said Giordano. With that experience in mind, Giordano strives to empower his team similarly, giving them the latitude to find their own road to success. 
Rudy Espiritu, who has worked with Giordano at three firms during the course of their careers – first at Swanke Hayden Connell Architects, then HLW International and now at Mancini Duffy where he is the firm's technical director, agrees that the effect on company culture has been tangible.
"Christian has taken some small steps in making a substantial impact at Mancini Duffy," said Espiritu. "On the home front, he's gained traction by celebrating our achievements and leveraging them into greater success. He's focused on hiring passionate, motivated people. This has helped us build a very strong group of professionals who are excited to work with each other and can find inspiration from day-to-day."
This focus on people has resulted in successfully bringing on board two of the industry's leading designers – Ricardo Nabholz as interior design director and Daniel Rojas, who also joined Giordano from HLW, as architectural design director. Rojas, who has worked with Giordano for over six years, commented, "What I will always admire is his ability to read people. He has a unique talent for understanding the needs of his clients while empowering his designers to push the envelope."     
Additionally, this strategy has paid off as the firm has seen a more diversified portfolio of interiors work in the last few years, with an increase in sports and media clients. The firm's architecture practice is also growing exponentially. An excellent example on both fronts is the firm's work at 125 West 25th St. Mancini Duffy is working with Normandy Real Estate Partners to transform this industrial building into a site for tenants with forward-thinking business. The building has already attracted fitness technology company Peloton, whom Mancini Duffy is assisting with a 31,000 s/f relocation to the top four floors.
John Foley, Peloton's co-founder and CEO, said, "We knew we wanted the design of our new headquarters to architecturally mirror our open company culture and organization. Christian understood this, and Mancini Duffy is helping us to achieve this. They're utilizing an open, trading floor style layout on each floor, and creating communal spaces – including two full-width, penthouse terraces ? that encourage our staff to come together as a company, and as a team."
Increasingly, Mancini Duffy has been attracting clients that share their same innovative mindset. Included in the firm's growing hospitality presence are several Manhattan projects with Prodigy Network, a real estate firm with a crowd-funding model. They have also been collaborating with Somerset Development on the adaptive reuse of the Eero Saarinen-designed Bell Labs in Holmdel, New Jersey into Bell Works, a vibrant destination in which companies can "work inspired."
Both with regards to the practice and the firm culture, Giordano alludes to deeper changes to come.
When asked about the leaders that inspire him as he ushers in those changes, Giordano gravitates towards true visionaries, with Elon Musk – the mind behind SpaceX, PayPal and Tesla Motors – rising to the forefront. "I admire his focus on the bigger picture. He wants to create something completely new, to change industries, not just improve them. Musk takes an established industry and changes it completely," said Giordano. "That needs to be done in architecture and design," he added, hinting at innovations incubating within Mancini Duffy.
All of this has led to a palpable excitement within the firm, which is evident when speaking with many of its employees. Dylan Howe, a first-year designer at Mancini Duffy, said, "As a recent graduate, I have been drawn to Mancini's people and culture. And Christian is at the apex of it all, not only effectively managing, but inspiring us as a leader."
Connie Luongo, a director at the firm, said, "When I see Christian interact with our clients and our staff, I think what's most evident is his ability to make you feel like anything's possible. And that you, and your talents, are capable of bringing about that possibility, that future."
That combination of forward thinking and leadership should prove to position Mancini Duffy well as it enters its second century – backed by 100 years of tradition, yet simultaneously on the verge of something completely new.