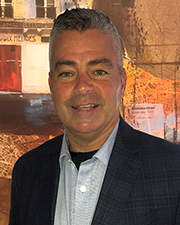 New York, NY "Can do!" Whenever Chris O'Donnell, fire safety supervisor for Total Safety Consulting Fire Division (TSCFD), is faced with a challenge, he remembers the proud motto of the U.S. Naval Construction Battalions or "Seabees."
"Those two words pretty much sum up my philosophy," said O'Donnell, a former Seabee. "I always say 'yes,' then I figure out a way to make it work." The words were readily added to "do the right thing" and "never say no," life lessons O'Donnell's parents ingrained in the five sons and a daughter they raised in East Flatbush, Brooklyn.
His father, a lieutenant with FDNY Ladder 147, and mother, who worked in the rectory of St. Vincent Ferrer, instilled in their family a strong and diligent work ethic. O'Donnell held two morning paper routes, plus a couple of after-school jobs before he started working for a construction company run by his brother. He honed his carpentry skills building roadways, barracks, and housing on deployments in the U.S., The Bahamas, and Panama for the Seabees.
"Being part of the Naval reserves was a perfect way to serve the country and learn a trade," he said.
In 1989, O'Donnell joined the NYPD, then transitioned to the FDNY when an opportunity arose in the mid-90s. Immediately, he felt part of a brotherhood and was grateful to "wake up every morning with a chance to do some good," he said. "I had a purpose."
Joining TSC and Developing and Expanding TSCFD
In 2010, O'Donnell found himself in the right place at the right time.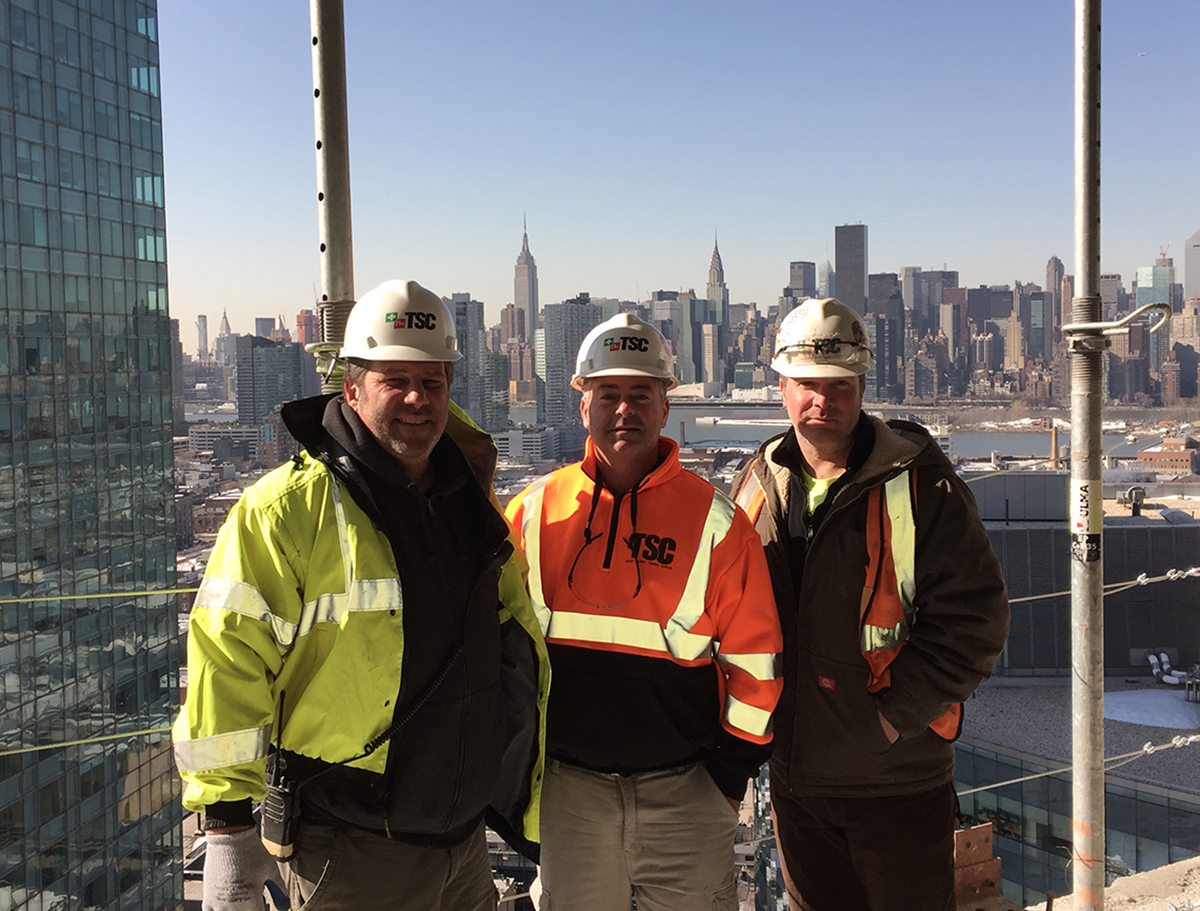 James and Elizabeth Bifulco, managing principals of TSC, had just formed a fire safety division, Total Safety Consulting Fire Division (TSCFD), with the help of retired FDNY fire chief Bill Ayers. The launch was part of an industry-wide response to the devastating Deutsche Bank fire of 2007 on the WTC site that took the lives of two firefighters, injured over 100 more, and inflicted enormous damage. As the massive fire spread out of control due in part to the lack of a working standpipe, it propelled the NYC DOB and the FDNY to enact a major overhaul of all fire codes and regulations. The Construction Demolition and Abatement (CDA) unit was formed and several fire codes were added including the requirement for a FDNY S-56 construction site fire safety manager to be onsite at all major buildings.
Ayers recruited O'Donnell, then a fire safety consultant, for the TSC crew at the Madison Square Garden renovation. Within weeks, the Bifulcos asked O'Donnell to come onboard full-time as a TSCFD fire safety supervisor and expand and develop the division. True to form, O'Donnell said "yes!"
"TSC has always been in the forefront of the industry and ahead of the curve. The timing was right," he said.
The division now staffs 25-30 full-time fire safety specific employees and we have access to many others if we need to ramp up for a client's immediate needs.
"The Bifulcos treat me like part of their family and their support is unwavering. We've grown into the largest fire safety division in the industry. With our firefighting background, 24/7 coverage, dedication and expertise, no one else has the capacity to do what we do," said O'Donnell.
He notes too that he's grateful to be part of a company where values matter. "To me, that's what it's all about. It's why my wife, Stefanie, and I work so hard. Everything we do is aimed at instilling the right values in our three daughters, Samantha, Delaney and Christyn," he said.
Ensuring Fire Safety
Under O'Donnell's direction, the TSCFD is vigilant in fire safety compliance. All sites adhere stringently to FDNY fire codes and the rules and regulations of New York City by ensuring that all fire protection equipment and systems are readily available, inspected daily, tested and maintained. Proper notifications are made whenever impairments are identified. The TSCFD team acts as a liaison between its clients, the FDNY and the CDA unit to remedy any potential fire safety issues.
"We always aim to be proactive, not reactive," said O'Donnell.
The team oversees hot work operations by verifying permits and the issuance of authorizations, making sure that Certificate of Fitness holders - the G-60 (torch holder) and F-60 (fire watch) follow their responsibilities.
The Value of TSC – A Turnkey Construction Safety Solutions Company
O'Donnell recognizes the value of working for a turnkey operation.
He held numerous certifications when he joined TSC nine years ago and continued to gain training hours and certifications at TSCTA (Training Academy). O'Donnell now collaborates with TSCTA to schedule and conduct fire safety training classes. Most members of his team hold 32-hour suspended and supported scaffolding and confined space certifications and have taken the NYC DOB site safety class, training that far exceeds the required fire safety certifications.
"Extra training improves the knowledge and understanding of the full scope of safety," said O'Donnell.
A subsidiary of TSC, Safety Supplies Unlimited (SSU), is one of the few FDNY authorized providers of fire extinguishers. It is likewise part of a small number of approved providers to offer the FDNY-issued, numbered inspection tags to verify authenticity and meet the compliance date this fall. SSU also offers regular inspections, recharging, and scheduled maintenance on leased or owned fire extinguishers. "It's good to know that SSU is available to handle client supply and inspection needs," said O'Donnell.
Spreading Fire Safety Awareness
TSCFD is playing a leadership role in expanding awareness of fire safety. Last year, TSC hosted a Fire Safety Awareness breakfast featuring O'Donnell and the keynote speaker, chief inspector of the suppression and the CDA Unit of the Fire Department of New York, Louis Cendagorta, who presented the latest regulations to a wide spectrum of the industry.
"There is growing awareness of the need for fire safety, but there's still a long way to go," said O'Donnell. He is optimistic.
"TSC clients often ask to retain our fire safety manager for their next project. They know that we're able to handle any situation with composure. If an emergency occurs, there's a quick and level response," he said.
TSC's Role in Iconic NYC Projects
That response has elevated TSC's prominence over the years. At Madison Square Garden, O'Donnell placed fire guards (a role required when a sprinkler system is temporarily out of service during construction) and fire safety managers on-site around the clock. Sometimes as many as 100 different hot work projects took place within 24 hours requiring multiple permits and monitoring.
TSC supervised site safety and fire safety at the renovation of Macy's Herald Sq. Shoppers numbering 10-20,000 daily were in the store while fire guards monitored the 10 barricaded upper floors undergoing construction. An unrelated fire in front of the store was immediately halted due to instant action taken by on-site TSC fire safety personnel who worked with the FDNY to expedite operations and evacuate shoppers.
O'Donnell's positive outlook governs TSCFD daily. If a last-minute request comes in for a crew of over 30 fire guards within 24 hours, he will say "yes" and be sure to deliver. "Scheduling has to be fluid," he said. "You do what's needed. You make it happen. We have a job. We're here above all to safeguard the workers and the public, then to prevent damage to property and keep the project on schedule. We know what to do and we'll go above and beyond everything we've planned if we need to."
For O'Donnell, anything less is not an option. "Can do!"