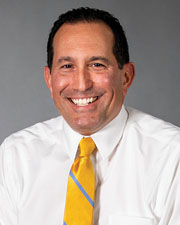 New York, NY The New York Real Estate Journal (NYREJ) sat down with Charlie Avolio, this month's Design/Build Executive of the Month, for a question and answer session. Avolio is the president and general manager of Suffolk Construction's New York office.
NYREJ: How did you end up in construction?
Avolio: I majored in mechanical engineering, but after graduating, I wasn't exactly sure about the direction I wanted to take with my career. I knew I was not interested in the design side of the business, and I enjoyed interacting with people, so I decided a hands-on career might be a better fit for me. I was also encouraged by my uncle, Anthony Avolio, a real estate lender, who thought the construction industry was a great fit for me. I got my first job as a field engineer at a large, international construction company and stayed there for 30 years, working my way up the ranks to eventually become a general manager. I've had experience in various roles within the construction industry, which has helped me in my career and in my current role at Suffolk as the leader of its New York regional operation.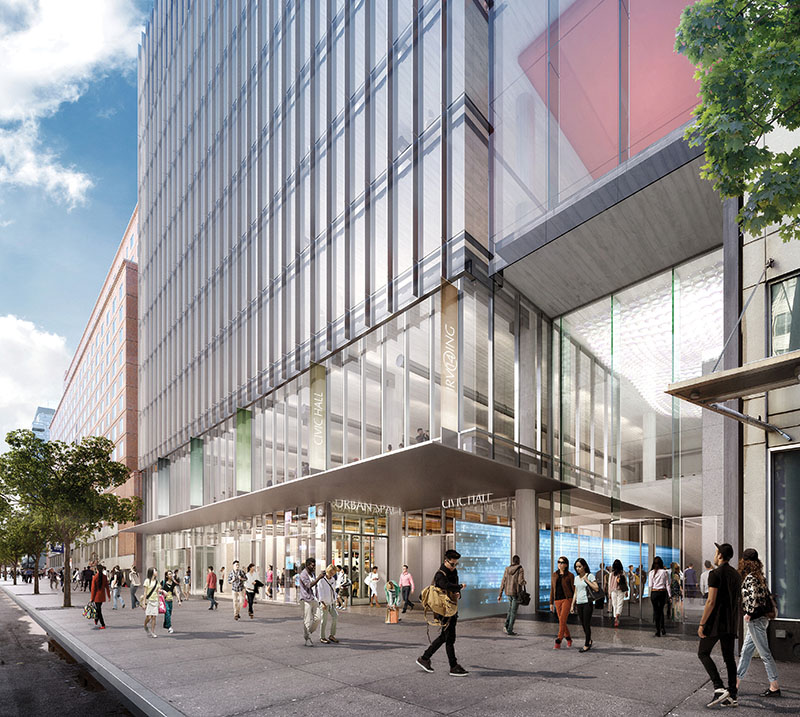 NYREJ: What's your view of New York's current construction boom?
Avolio: It's a great time to be building in New York City, and Suffolk is excited to continue expanding our presence here with a growing number of projects. There are a lot of new construction opportunities in various high-growth sectors like healthcare and higher education, in addition to projects in the residential and commercial sectors. But as the building boom continues, it's also important that the industry prioritizes safety on local work sites. New York City recently enforced additional safety training requirements put forth by Local Law 196, which I believe should contribute to a broader conversation about ways to make the city's worksites as safe as possible. At Suffolk, we take safety very seriously. Yes, we train field workers accordingly, but we are also thinking bigger than that—our goal is to create a true culture of safety throughout our entire company, from our corporate leadership and regional offices to our project sites, and through robust engagement of our trade partners.
NYREJ: What has been Suffolk's experience with the technological advancements in the industry?
Avolio: Suffolk has been at the forefront of leveraging the most sophisticated technologies and processes in the construction industry. We have truly embraced the digital era and applied the use of new technologies across various projects to increase productivity and safety. Our project teams have access to the most powerful emerging technology in the industry, and we share and scale those technologies across the country using our regional Smart Labs. Smart Labs are "collaboration centers" that allow project teams to pull data from project sites in real time to measure project activity and progress. Our teams use these Smart Labs to collaborate with clients and partners using various technologies and data streams that allow them to increase performance and safety on project sites. We also recently developed a proprietary app called RiskX that allows project team members on project sites to record safety observations in real time so we can closely track safety trends and areas in need of improvement. We recently added artificial intelligence technology from our tech partner SmartVid which allows us to automatically analyze photos taken on project sites and help us spot potential hazards before they become safety issues. We are currently testing predictive analytics technology that may someday allow us to predict the chances of safety incidents occurring on project sites under certain conditions before they happen. It's pretty exciting stuff.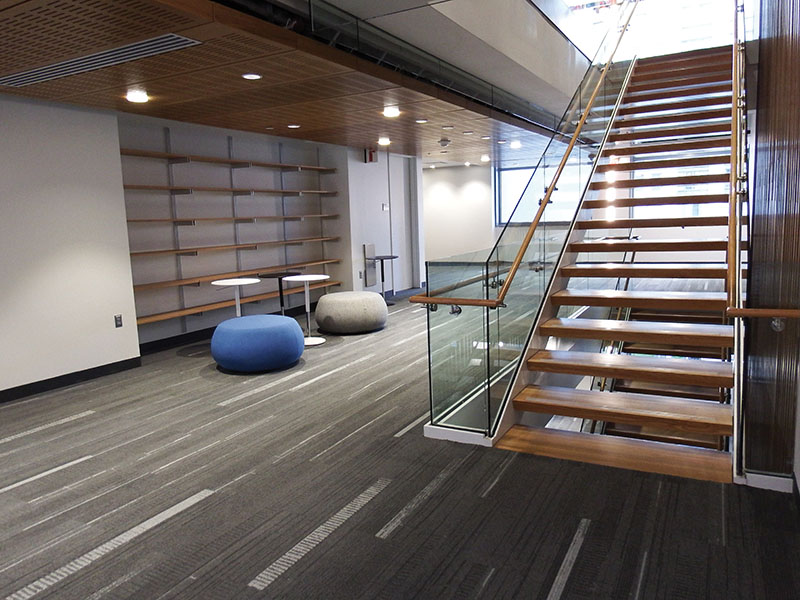 NYREJ: How have you grown Suffolk's New York office since you started?
Avolio: Since I began working at Suffolk, my team and I have focused on establishing the office as a key player in the New York market. Over the past three years, we've increased our New York revenue by over $400 million–meaning we've grown over ten-fold. We've done this through building relationships first. But we always knew we didn't want to be the biggest contractor in New York, we wanted to be the best. And we believe we've made progress in this market by approaching construction differently than many other contractors in New York. We believe we have a unique value proposition. Our use of sophisticated technologies and processes allow us to deliver a level of client service and predictability on our projects that many clients are not custom to. For example, our plan and control strategy allows us to coordinate and collaborate with project stakeholders much earlier in the planning process so we can align expectations - resulting in more predictability and a seamless design and construction management process. The plan and control approach focuses on bringing more constructability aspects into the design process by bringing together trade partners to collaborate with builders, architects, and owners. As mentioned earlier, we are already using Smart Labs and predictive analytics to improve safety on our project sites. We are also using virtual reality and CAVE technologies to help clients visualize their completed projects before the first shovel hits the ground. At Suffolk, we believe technology can provide endless opportunities to add value and prove impossible wrong on some of the most sophisticated projects in New York and across the country.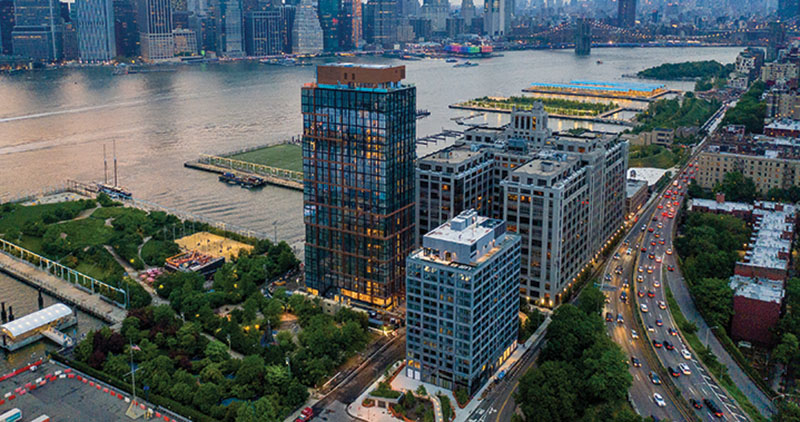 NYREJ: Are there any projects that you are particularly excited about right now?
Avolio: We are managing a number of exciting and unique projects throughout the New York region. This year, we completed two projects at Pier 6 in Brooklyn for repeat client RAL. The Landing at Pier 6 is a 140-unit affordable apartment housing complex, and the Quay is a 120-unit condominium. Our 14 at Irving project, also developed by RAL, is a 21-story technology training center that will be part of NYC's Tech Center. That project is particularly exciting because, once constructed, it will support the spirit of creativity and innovation in the city for generations to come. Needless to say, everyone at Suffolk is very excited about that project. A similar education project we recently completed was New York University's new innovation hub for engineering, applied science, urban science, digital technology, and digital media arts at 370 Jay St. in Brooklyn, a research center that is working to identify solutions to important urban issues. In addition, we have had a very good last few months to diversify our portfolio including a new health center for the NY Hotel Trades Council & Hotel Association, and a last-mile fulfillment center in Red Hook, Brooklyn.
NYREJ: What do you see as the biggest challenge for the construction industry right now?
Avolio: Attracting talent continues to be one of our greatest challenges. The workforce shortage in our industry is real. Having said that, as the construction industry continues to rely on sophisticated, cutting-edge technology to add value for clients, we're finding the industry is attracting more younger, digitally savvy workers than ever before. At Suffolk, we leverage the strengths of the four generations currently in the workforce through "reverse mentoring" on our project sites. We team up our tech-savvy millennials who are fairly new to the industry with our more seasoned senior superintendents so they can learn from each other and add value on projects. The younger generation learns how to build and manage trade partners from our experienced staff members while our senior construction managers learn how to leverage the latest technologies and processes for more efficient communication and collaboration. We have found "reverse mentoring" to be a very powerful approach on our projects and for recruiting and retaining our best talent.