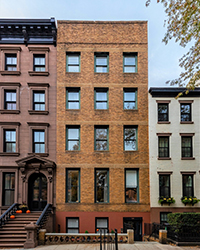 New York, NY A Brooklyn Heights property was sold by Meridian's Amit Doshi and Shallini Mehra on 144 Willow St. for $8.3 million. The property is a 100% free market building that underwent extensive condo-like renovations in 2018 and benefits from a tax class 2B status. The turnkey building sold for $830,000 per unit or $1,009 per s/f, equivalent to a capitalization rate of 4.50% and a gross rent multiplier of 17.3 times.
Doshi and Mehra represented the seller, Benchmark Real Estate Group. Kim Skarvelis of Cast Iron Real Estate Co. represented the buyer, who was in a 1031 exchange.
"Brooklyn Heights is one neighborhood that holds value for investors and consistently achieves premium pricing, often in line with prime Manhattan neighborhoods," said Mehra.
Prior to this sale, Doshi and Mehra also sold 50 Orange St. and 35 Pineapple St. in Brooklyn Heights, both owned by Benchmark, to a European investor for $33 million. Residents of the neighborhood enjoy an area of Brooklyn with an abundance of dining and shopping, benefitting from a one-stop commute to Wall St. and downtown Manhattan via the 2 and 3 subway lines. 144 Willow St. also is located one block from the Brooklyn Heights Promenade.
Attorney James Patalano of Joshua Stein PLLC represented the buyer in this transaction.