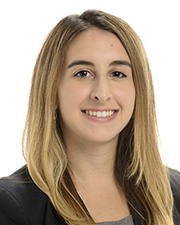 East Meadow, NY Amanda D'Introno has joined the commercial lending/banking practice group at Certilman Balin Adler & Hyman, LLP as an associate.
Prior to joining the firm, she was counsel to Lake Success-based Newtek Small Business Finance, LLC where she represented the largest non-bank lender in commercial transactions under the Small Business Administration (SBA) 7(a) Loan Program. In her representation of Newtek, she closed small business loans which financed real estate purchases, business acquisitions, debt refinance, leasehold improvements, and machinery and equipment purchases throughout the country.
Throughout her law school career, D'Introno honed her skills through a variety of internships at law firms and organizations. She was an Intern at Farrell Fritz, P.C. and Berkman Henoch, Peterson, Peddy and Fenchel, P.C. She also interned at the Community & Economic Development Clinic, Catholic Health Services of Long Island and served as a Judicial Intern to The Honorable Jeffrey Brown at Nassau County Supreme Court.
She earned her Juris Doctor from the Maurice A. Deane School of Law at Hofstra University in 2015. She served as managing editor of production of the Journal of International Business and Law. In 2012, she graduated from Fordham University's Gabelli School of Business with a major in Finance.
She is admitted to practice in the States of New York and New Jersey.
Certilman Balin Adler & Hyman, LLP, Long Island's second largest full-service law firm, has offices in Nassau and Suffolk Counties. Its 15 practice areas include: real estate, real property tax certiorari and condemnation, cooperative and condominium, land use, environmental law, corporate/securities, litigation, commercial lending, labor relations/employment law, bankruptcy and debtor/creditor rights, nonprofit/tax exempt and religious organizations, trusts and estates, elder law, telecommunications law, and criminal law.

Thanks for Reading!
You've read 1 of your 3 guest articles
Register and get instant unlimited access to all of our articles online.

Sign up is quick, easy, & FREE.
Subscription Options
Tags: