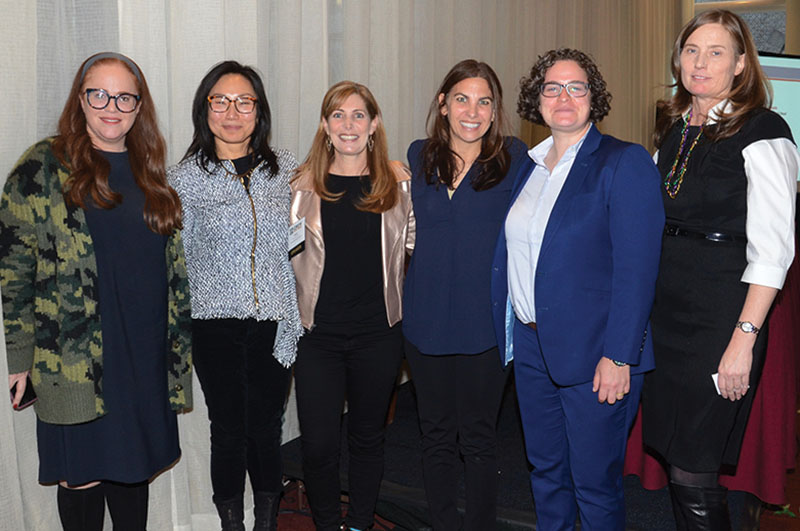 Manhattan, NY CREWNY (Commercial Real Estate Women New York) brought together a panel of women to its "Powerful Women Luncheon," on March 5th at Club 101. Toby Moskovits, CEO of Heritage Equity Partners LLC; Susi Yu, managing director and head of development at L&L MAG; and Tracey Applebaum, co-founder and managing principal at BedRock Real Estate Partners discussed their backgrounds and careers in commercial real estate.
The discussion covered the ways in which trailblazers and women in leadership roles have, in many ways, enhanced the opportunities for better balance between work life and home life and laid much of the groundwork for the opportunities that younger women have today.
Jill Gardiner Noonan, senior content director at The Real Deal, moderated the panel.
The panelists also noted that there was still a long way to go, even just in the way that people think about women in the commercial real estate (CRE) sphere. Toby Moskovits, the founder and CEO of Heritage Equity Partners LLC, summarized much of what she had anecdotally observed with respect to women in the workplace, saying, "Too often [as women] we feel like we are there but we don't belong there [and], in the back of our heads, it's like 'do I deserve this?" Moskovits expressed the importance of role models, how she works from her mobile phone–versus a traditional office setup–and creating opportunities for women in traditionally "transactional" and "deal-driven" spaces, like commercial brokerage. She said, "We're missing [from] those environments where the deals get done."
Susi Yu, managing director and head of development at L&L MAG, is responsible for overseeing and executing the development investment strategy. She said she has seen firsthand the benefits of working for a meritocracy, where people are recognized on the basis of their abilities and actions instead of their race or gender. Yu said that her coworkers at her woman-owned real estate development company are viewed as responsible professionals and treated as such. She said that, as an up-and-coming professional, she learned that she could "just do it," rather than asking permission to make accommodations for family obligations.
Tracey Applebaum, who is co-founder and managing principal at BedRock Real Estate Partners and who was raised in Georgia, described her path to ending up where she currently is, which included a background in development and fundraising. She noted that earning her MBA helped her to begin laying the groundwork of building a support network. "It was really more through business school that I really started to form the basis of the networks that are my network system in New York today," she said.
A dominant force for women real estate professionals in New York City, CREWNY has long been a leader in networking, education and community outreach. As a chapter of the CREW Network, CREWNY provides its members with direct access to more than 10,000 commercial real estate professionals in more than 70 major global markets.