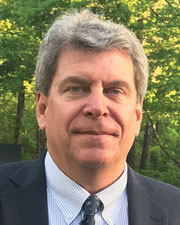 Syracuse, NY The Upstate New York Chapter of the Appraisal Institute is being led by P. Richard Coughlin, MAI as president for 2020.
Coughlin, a director of Integra Realty Resources has experience in the appraisal of a wide variety of real estate properties. Other officers include Stephen Ferrara, SRA as vice president; Shawn Riley as treasurer and Thomas LaBelle, MAI, AI-GRS as secretary. New directors are Christopher Harland, MAI; Willam Beyerbach, MAI, SRA; and Thomas Humbert. The new directors join the current board members Mark Grant; MAI; Jason Graves, MAI; Kate Frank, MAI; and Denise Rhoads.
The Appraisal Institute is recognized as the leader in the real estate appraisal industry and is one of the oldest organizations of real estate appraisers in the world.