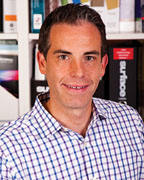 Name: Michael Roman, RA, AIA, NCARB
Title: Principal
Company Name: C2 Design Group
How many years have you been in your current field? 20 years
What was your company's greatest achievement of 2018?
We successfully completed the design of a new, luxury apartment complex in the Park South neighborhood of Albany. The owner and developer of the project was looking to offer housing to support growth and revitalization initiatives in the neighborhood. The project goal was to keep people in Albany and to help improve the area, once known for high crime rates and dilapidated buildings.
What is the most exciting job/project/goal for your company in 2019?
The design and construction of our new office will be complete this summer. This new space allows our firm to expand with continued growth in the future. The new office is also a showcase piece highlighting our design capabilities for corporate office design.
What do you like the most about doing business in the Albany Region?
I like the connectivity of the area. Being a small business owner, it's important to me to have strong relationships with my clients and consultants.
What Albany Region networking opportunities does your business participate in?
Our company is a member of the Capital Region Chamber. We attend their events along with Albany Business Review Power Breakfasts and Eastern Contractors Association networking functions.