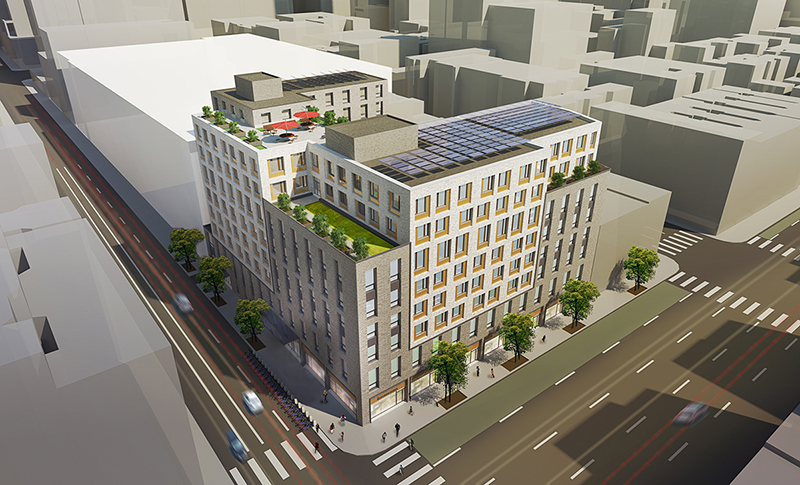 Manhattan, NY CetraRuddy has been selected as architect for a new affordable housing complex located at 806 Ninth Ave. in Hell's Kitchen. The vacant city-owned site will be transformed into a mixed-used building with 100 units of affordable and supportive housing, including a number of apartments reserved for the formerly homeless. In addition to residential uses, CetraRuddy's design offers 11,000 s/f of retail area, with office space for NYC Transit and below-grade parking for MTA vehicles.
The project, developed through a partnership between Hudson Cos. and the social services non-profit Housing Works, Inc., forms a key element of a decade-long plan to create more than 250 affordable homes on two plots of city land in Midtown, recently unveiled by the city's Dept. of Housing Preservation and Development (HPD). Along with the 806 Ninth Ave. location, another nearby site will be developed by another team into 160 units of affordable and supportive housing.
"These 100% affordable housing developments in Hell's Kitchen are a long time in the making, and we need them now more than ever," said New York City Council Speaker Corey Johnson in a statement." These two projects will create desperately needed affordable housing for a wide range of residents, from very low income to moderate income households. Given the severe homelessness and affordability crises we face as a City, these two projects are all the more essential."
The work at 806 Ninth Avenue is the latest in a long line of thoughtful urban housing solutions by CetraRuddy, nationally recognized as a leader in multifamily residential planning and design. Notable recent projects include: ARO, also located in Midtown Manhattan, a 62-story tower opening this year with an innovative step-back podium and large landscaped terraces; and Saltmeadow, a series of storm-resilient townhomes contributing to revitalization in Far Rockaway, Queens.