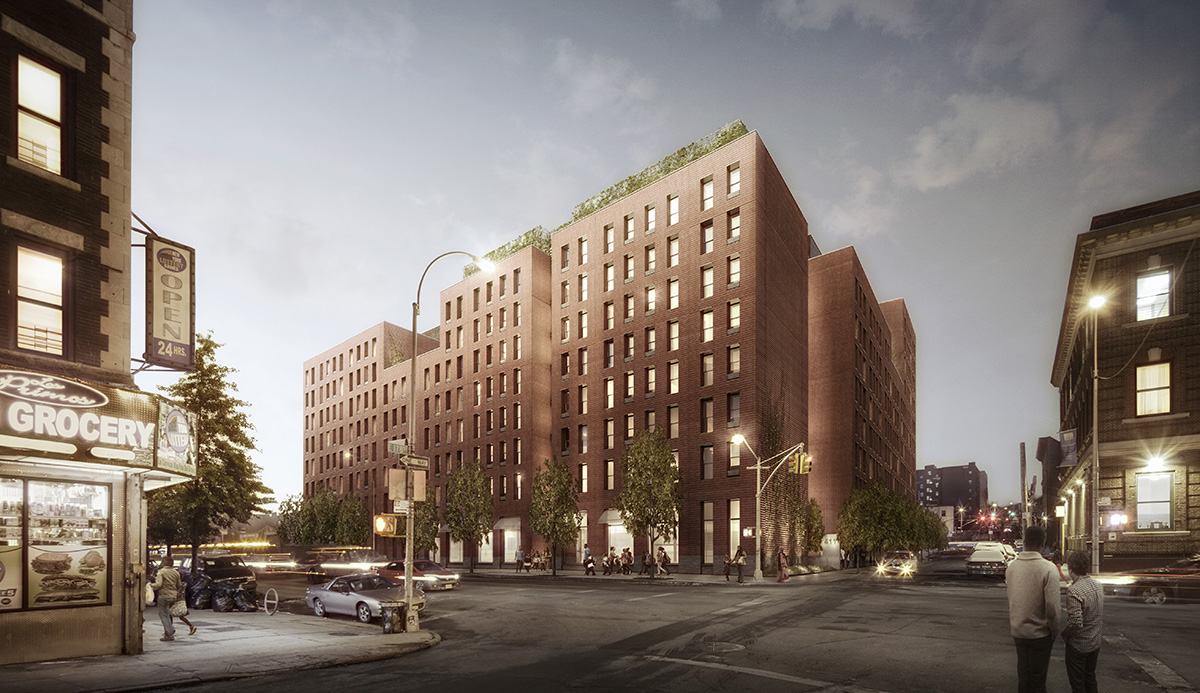 Bronx, NY Breaking Ground, one of New York's largest supportive housing developers, has celebrated the opening of Park House, The Agency's first ground-up, all-affordable residence for families with children. Breaking Ground was joined by key partners in this development, including NYC Housing Development Corp., NYC Department of Housing Preservation and Development, NYS Office of Mental Health, NYS Office of Temporary and Disability Assistance/Homeless Housing Assistance Corp., Federal Home Loan Bank of New York/Astoria Bank, and Wells Fargo, N.A. Additional support was provided by the JPMorgan Chase Foundation. Breaking Ground acquired the site in 2014 with a bridge loan from the NYC Acquisition Fund and the Low Income Investment Fund.
Located at 4275 Park Ave., Park House delivers 248 units of affordable housing to the Tremont neighborhood, including 40 permanently affordable units made possible through the city's Voluntary Inclusionary Housing program. More than half of the apartments feature two or three bedrooms. Designed by COOKFOX Architects, Park House echoes the neighborhood's masonry apartment buildings and helps instill a sense of pride and dignity for residents who for years were without secure, stable housing.
"For decades, Breaking Ground has been serving those living on the streets through providing quality housing with on-site supports to build and restore lives. But in response to the city's affordable housing crisis, we knew we had to do more," said Brenda Rosen, president and CEO of Breaking Ground.
"We are thrilled to open our first building serving families and children today. Park House will ensure that hundreds of families can grow and thrive free from the worry that their kids won't have a safe place to sleep at night. We are proud to play an important role in helping the Bronx to remain affordable for hard working New Yorkers as part of our community revitalization efforts now and well into the future."
"Creating and preserving affordable homes for our city's hardworking families is a top priority. All of the 248 units at Park House will be affordable, and 40 will remain so permanently through the city's Voluntary Inclusionary Housing program," said Housing Preservation and Development commissioner Maria Torres-Springer. "I want to thank our many partners on this project, who are playing an important role in providing the affordable housing and supportive services that our city's most vulnerable populations so deeply need."
"Park House demonstrates the greater outcomes that can be achieved through public-private partnership buoyed by the commitment of remarkable non-profits like Breaking Ground," said HDC President Eric Enderlin. "Thanks to the hardworking teams at Wells Fargo, the Federal Home Loan Bank, SONYMA, JP Morgan Chase Foundation and our city and state agencies, this 100 percent affordable building will provide much-needed supportive services to 20 formerly homeless households, include 40 permanently affordable apartments, and bring opportunity for a better future to all 248 individuals and families that will soon call Park House home."
"Wells Fargo is proud to be part of Breaking Ground's Park House project, providing affordable housing for low-income New Yorkers. This is a model of sustainable development that will strongly promote a decent and secure quality of life not just for the families who will call Park House home, but for the entire surrounding neighborhood. Wells Fargo is firmly committed to fostering stronger communities and greater opportunity for families to establish successful lives throughout our financing programs. The Park House development and our partnership with Breaking Ground on multiple fronts exemplifies our commitments to build a better, more inclusive society for everyone," said Alan Wiener, managing director of Wells Fargo Multifamily Capital.
"With more than 3,500 units of affordable housing in New York City alone, Breaking Ground is a vital part of the city's housing needs," saidJosé González, president and CEO of the Federal Home Loan Bank of New York. "The Federal Home Loan Bank of New York has been proud to support Breaking Ground on past projects, and we are honored to join with Astoria Bank to help make Park House a reality."
The nearly 244,000 s/f, 12-story residence provides 248 apartments, primarily two and three-bedrooms, and is designed to reach Enterprise Green certification. In early 2018, Park House will be joined with Breaking Ground's new Webster supportive housing residence, currently nearing completion, through a shared landscaped courtyard. These combined projects will bring 418 affordable homes for some of New York City's most vulnerable residents, in addition to considerable community benefits and improved street activity along Webster Ave.
"We were blessed with the opportunity to design healthy, sustainable and affordable housing for families," said Rick Cook, partner and co-founder of COOKFOX Architects. "At Park House, we created a building of depth and substance with beautiful hand-set masonry to rebuild the historic street-wall and mend an urban block along two important avenues in the Bronx."
Amenities at Park House include a community space, bicycle storage, onsite laundry for residents, and a landscaped courtyard.
Park House is equipped with high performance boilers, energy efficient lighting fixtures and controls, water-saving fixtures and fittings, EnergyStar appliances, and extensive green roof areas with drought resistant plantings.
Including Park House, its third residence in the Bronx, Breaking Ground now owns and manages more than 3,500 units of supportive and affordable housing in New York City, with additional units in upstate New York and Connecticut. With three additional Bronx residences planned, and several more throughout the five boroughs, Breaking Ground has nearly 1,500 units of supportive and affordable housing in its development pipeline.