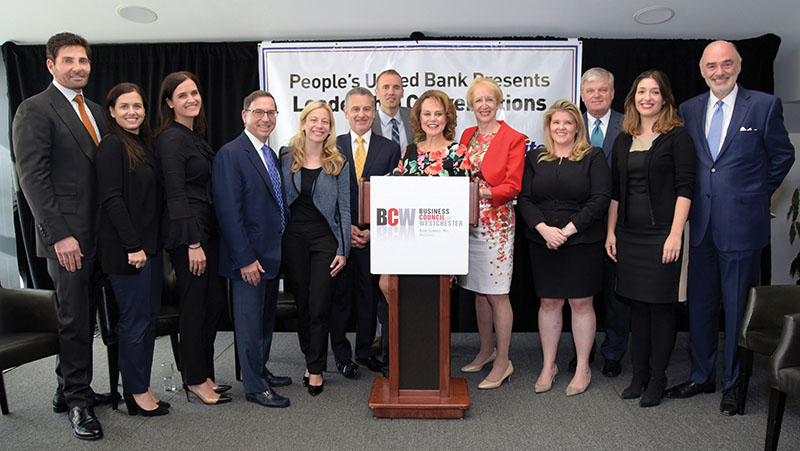 White Plains, NY Some of Westchester's leading father-and-daughter business teams shared the secrets to running a successful family business and discussed the emergence of women leaders in traditionally male-dominated industries at the The Business Council of Westchester's (BCW) People's United Bank Leadership Conversation Series. More than 100 people attended "Fathers and Daughters in Leadership: A Shared Vision for Success" on May 14 at Kanopi at the Ritz-Carlton.
Marsha Gordon, president and CEO of BCW, said the idea for the panel sprang from the growing number of young women entering family businesses.
Moderator Elizabeth Bracken -Thompson asked some candid questions of the panel of fathers and daughters. The panel included:
• Joseph Simone, president, Simone Development Cos. and his daughters: Patricia Simone, president, Simone Management Group; and Joanna Simone, vice president, leasing & property management operations, Simone Development Cos.;
• Joseph Armentano, CEO of Paraco Gas; Christina Armentano, executive vice president of sales & business development, Paraco Gas;
• James Houlihan, managing partner, Houlihan-Parnes Realtors; Christie Houlihan, senior director and council, Houlihan-Parnes Realtors; and
• Robert Weisz, CEO, RPW Group and his daughter, Alexandra Weisz, vice president of operations, RPW Group.
All the panelists seemed to agree that family relationships added another dimension to the otherwise already complicated dynamic of running a business.
"With the year of the woman this year, we felt that this program would be of great interest to our members'' said Gordon.
Patricia Simone said that she entered the family business fresh out of college while her sister Joanne, had started her career in a different industry with some experience already under her belt. "I found myself there on day one definitely scared, fresh out of college and not sure what to expect,'' she said. "I can now say 10 years down the road that there are a number of different ways you can enter a family business and none of them are the right way or the wrong way.''
Joanna Simone said that coming to the family business after having had another career in the fashion industry helped her to build the confidence she needed to succeed. "For me working somewhere else before coming into the family business was very valuable because I came in with the skill set and perspective that I wouldn't have had otherwise," she said. "I use the skills that I learned elsewhere every single day."
Fathers and daughters agreed that children who joined the family business needed to work harder to prove themselves in the eyes of their co-workers.
Christina Armentano said that she was glad to have joined Paraco Gas only after she had eight years of experience elsewhere. "Coming into the business for me personally after being on the outside for the first eight years gave me a level of self-confidence, I needed,'' she said.
Her father, Joseph, said that he had a similar experience, joining Paraco right out of Fordham University in the 1970s. He said that as a result, he had a rule that his own children had to work outside the business for at least two years before joining the family firm, and then only if there were a real job for them. "I think it was a really good opportunity for her to gain the respect of her co-workers,'' he said, joking that it took him another six years to convince Christina to join Paraco.
Asked whether she felt pressure to continue the family legacy since Houlihan-Parnes founded in 1891 had lasted five generations, Christie Houlihan, said no. "I didn't feel pressure because my dad was very calm about this when I was a kid growing up. He said, 'If you want to do it, it's an option, but it was never expected.' I feel thankful that I had the freedom to come to that decision on my own,'' she said.
Robert and Alexandra Weisz said that working together had transformed their relationship. "Working together has been one of the most rewarding experiences,'' said Robert Weisz. "I learned to respect her from a different point of view… as a professional. I have to admit that some of the biggest changes I made in my life were a result of our relationship."
Alexandra admitted that she and her father often clashed because their personalities were so similar, but that working in the same office had brought them closer together. "We are both very strong-willed people and from time to time that can definitely cause some collisions,'' she said. "But we figured out how to work together better. It required a lot of introspection on both our parts.''
Keeping disagreements in the office, all the families agreed, was a challenge.
"It's really hard and it takes a lot of discipline,'' said Joanna Simone. "We've made it a rule that what happens in the office stays in the office."
When asked whether having daughters join their businesses, has given them a different perspective on the role of women in business, most of the fathers said it definitely had.
"Alexandra coming to the business made me realize that the world is very different,'' said Robert Weisz. "Women are not treated the same. "We have a meeting where people assume that because she is a woman she is not one of the top executives. That's the automatic assumption. But once she makes a point… by the end of the meeting people know that she is running the show,'' he laughed.
Jim Houlihan said women's roles had changed tremendously since he became a managing partner back in the mid -1970s. "In 45 years I have been in business the world has changed dramatically,'' he said. "When I first started in business it truly was male dominated."
Houlihan told the story of attending a board meeting where a women executive was invited by a colleague, and when she was introduced there was some push back. "One of these old, red faced guys says, 'how dare you bring a woman into this group.' Within 10 years she was the first chair of the group,'' he said.
Everyone agreed that if you join a family business, you have to expect to be held to a higher standard.
"When someone signs up for a family business, they need to know what they are getting into,'' said Joseph Simone. "They need to know that a lot of employees are looking at them and they need to know that it is a reflection not only of them, but on all the family members."
Patricia Simone said: "It takes a lot of time and effort. It takes starting from the bottom, and really understanding every role. Woman or man whichever you are, if you're in a family business, you have to prove yourself and you have to be able to do every job better than anyone else."
One of the county's largest and most influential business membership organizations, The Business Council of Westchester is committed to helping businesses market, learn, advocate and grow. In addition, The Business Council of Westchester is actively involved in reviewing federal, state and county legislation and regulations in order to assess the potential impact on the business community and to influence the outcomes through advocacy when the business community's interests may be affected. It also acts as an information resource for the business community and government leaders at all levels.