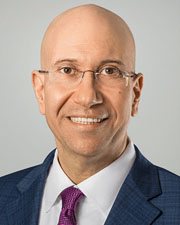 Ariel Property Advisors in 2019 continued to successfully accomplish its mission: Provide real estate expertise that empowers clients, employees, and communities to reach their full potential. This was strengthened by our firm's steadfast commitment to the non-profit and community-based organizations we support each year.
Our company in 2019
Our clients: The passage of the Housing Stability and Tenant Protection Act of 2019 (HSTPA) was one of the most important developments to ever emerge in the New York City multifamily property market. The new laws undoubtedly present a host of challenges, and our role is to help our clients navigate the new environment, understand their market position and help them take advantage of opportunities that are presented. How do we do this? We collect, analyze and dissect every piece of information relevant to NYC's investment sales market. Our professionals interact daily with hundreds of investors and owners to discuss investment sentiment and transactions, which in return provides valuable knowledge. Our expertise enabled us to broker Northern Manhattan's largest sale of 2019: Fairstead Affordable's purchase of Harlen Housing, a two-building, 214-unit affordable housing portfolio in Central Harlem, for $75.5 million. In addition, we currently have properties valued at over $1.5 billion that are either in contract to be sold or are being marketed for our clients.
Our professionals: Ariel Property Advisors' unique Investment Research Division provides our sales professionals with the most valuable and accurate information in the industry. Our open office environment and data infrastructure encourages much-needed collaboration amongst our brokers. Our Capital Services and Investment Sales professionals work closely together to gain a deep understanding of capital inflows into NYC, which is extremely useful to our clients.
We are a data-driven company with state-of-the-art technology that permeates every facet of our company. The value of our data and information retention, both in terms of quantity and quality, puts our platform at the top of our clients' minds. We analyze and collate public and private data in a unique and systematic way, which greatly aided our savvy NYC clients, who have already begun to adapt to new market conditions and opportunities.
Social Responsibility: Ariel Property Advisors' success has enabled us to be leaders in our community and make a real difference in the lives of others. Empowering the communities that we serve, and social responsibility are two key components of our corporate culture. It is our goal to be at the forefront of helping overlooked NYC neighborhoods through our strong relationships with several non-profit and community-based organizations. We donate funds and volunteer our time to many of these groups.
We are especially proud of our long-standing relationship with the non-profit Legal Outreach. The organization is extremely successful at preparing urban youth from underserved communities in NYC compete at high academic levels by using intensive legal and educational programs as tools for fostering vision, developing skills, enhancing confidence and facilitating the pursuit of higher education.
Ariel Property Advisors has championed Legal Outreach for more than a decade, a relationship bonded by the organization's strong advocacy of diversity and inclusion. We have sponsored summer internships for Legal Outreach, which provided members of our team the rewarding opportunity to serve as mentors.
We also started building a relationship with The Real Estate Associate Program (REAP), a group that relentlessly tries to connect talented minority professionals with commercial real estate companies. We hosted a luncheon for REAP and it was attended by over 30 professionals.
In 2019, Ariel Property Advisors hosted its fourth annual internship for graduating seniors from The Chapin School, an all-girls independent day school. We hope our annual internship, which includes panel discussions with successful women in the real estate industry, helps cultivate a future that includes more women in our business.
The above are just a few of the organizations we support. Others include the Lower East Side Tenement Museum whose mission is to tell the personal stories and struggles of the immigrants and migrants that played a pivotal role in making NYC great. We also support The Inner–City Scholarship, Belev Echad, Ice Skating in Harlem, Friends of Israel Defense Forces (FIDF), Cookies for Kids' Cancer, Harlem RBI, the UJA Federation, Help USA and many others.
2020 & Beyond
Regulation is at the top of our minds as we enter a new decade. The year 2020 will mark 100 years since women gained the right to vote on a national level, the National Football League was created, and the start of the period of Prohibition. We have come a long way from a legislative perspective, yet other areas, such as NYC commercial real estate, have witnessed increased scrutiny and regulation.
How will Ariel Property Advisors look in the next decade?
We leverage what we know and who we know to the benefit of our clients, professionals and the organizations we partner with.
Lastly, I am incredibly thankful for our company's talented partners, brokers, analysts, sales support professionals, administrative personnel, vendors, service providers and our friends in the industry. I am truly excited about 2020 and hope we can celebrate mutual successes together and at the same time, continue to work together to strengthen our city and our community.
I wish everyone a joyous holiday season and a happy new year!
Shimon Shkury is president and founder of Ariel Property Advisors, New York, N.Y.