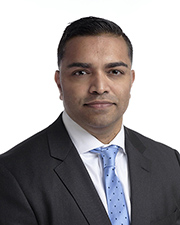 Bronx, NY Jensen Ambachen, of counsel to the condo and cooperative law practice group at Certilman Balin Adler & Hyman was installed to the board of The Queens & Bronx Building Association (QBBA) on September 26th at Marina del Rey, Throgs Neck for a one-year term. He has experience in and an understanding of offering plans, HOA and coop/condo boards, contract preparation and negotiation, and title issues.
As a former Assistant Attorney General in the Real Estate Finance Bureau of the New York State Attorney General's Office, Mr. Ambachen reviewed offering plans and amendments to ensure compliance with the Martin Act and Attorney General regulations for new condominiums. He also practiced in the areas of litigation and mediation of construction related disputes for condo boards and HOA's.
Prior to joining the firm, Mr. Ambachen was Senior Attorney at the New York City School Construction Authority, involved in representing the Authority's real estate and development interests. He also negotiated license agreements; attended mediations to resolve construction disputes; and provided legal support to the departments of architectural and engineering, construction management and real estate. Additionally, Mr. Ambachen has served on condo boards representing the City's interest when the public school was a unit owner within a mixed-use development.
As Senior Attorney for Special Enforcement in the New York City Department of Buildings, he reviewed certain filings for building code compliance, and drafted proposed revisions to the enforcement sections of the updated New York City Building Code.
Ambachen earned his Juris Doctor from St. John's University School of Law in 2001, and his Bachelor of Arts in Political Science, from Stony Brook University in 1997. He was a member of the Moot Court Honor Society, an award winner in the Goldfarb Family National Essay Contest, Student Editor of the American Bar Association Real Property Law Journal, and was active in civil and criminal trial advocacy competitions.
Admitted to practice in the State of New York, Ambachen is a member of the New York State and the New York City Bar Associations.
The QBBA is a trade organization with more than 300 construction-related member companies. The QBBA is the only local association devoted to building and preserving homes and communities by promoting the Queens & Bronx construction industry. For more information, visit www.queensbronxba.com.
Certilman Balin Adler & Hyman, LLP, Long Island's second largest full-service law firm, has offices in Nassau and Suffolk Counties. Its 15 practice areas include: real estate, real property tax certiorari and condemnation, cooperative and condominium, land use, environmental law, corporate/securities, litigation, commercial lending, labor relations/employment law, bankruptcy and debtor/creditor rights, nonprofit/tax exempt and religious organizations, trusts and estates, elder law, telecommunications law, and criminal law.