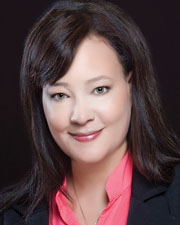 Name: Michelle Galindez
Title: Associate Partner, Director, Marketing and Communications
Company Name: Syska Hennessy
List up to three associations or organizations that you are presently a member of:
What conferences, books, blogs, podcasts, or influencers would you recommend to women?
I recently read the book "Getting Naked" by Patrick Lencioni. It's a great quick read and I highly recommend it for those who are looking for books on management and for those looking to change their leadership and/or client service approach. The book is positioned as a business "fable" but what drew me in is the discussion of transparency. As a "story" we followed the characters through their business dilemmas and this approach allows us a deep dive into their mindset (at least as the story was built). The writer also addresses three fears and approaches to them in the business context. If you haven't read it add it to your reading list!
What is one characteristic that you believe every woman in business should possess?
I believe the one characteristic that women in business need to possess is care. It's not enough to be good in your role. You need to care about those who work for you and those you work for. I find the overall level of connectivity emotionally can help drive better business outcomes.