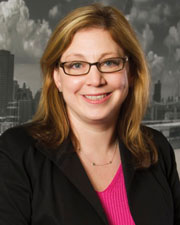 Name: Leslie Berkoff
Title: Partner
Company Name: Moritt Hock & Hamroff LLP
List up to three associations or organizations that you are presently a member of:
American Bar Association,
American Bankruptcy Institute,
International Women's Insolvency Restructuring Confederation.
What recent project, transaction or accomplishment are you most proud of?
I was recently appointed by the Court of Appeals for the Second Circuit to serve on its Pro Bono Appellate Mediator Panel for a three-year term. In accepting this appointment, I am joining a select group of hand-picked mediators who assist the Second Circuit with resolving appellate disputes. As a member of this distinguished panel, I will not only handle complex commercial matters, but I will work with the court to identify and select cases that would be appropriate for the program. A Circuit Court is the highest mediation panel a mediator can sit on in the U.S. and this is a true honor.
What is one characteristic that you believe every woman in business should possess?
Confidence, which is not feeling good about oneself (although that is nice), but it is knowing what you are capable of accomplishing and knowing that you have the perseverance to rise to a particular challenge and meet and elevate above it. Having confidence allows you to recognize and redefine your own successes and/or failures; this knowledge is power.