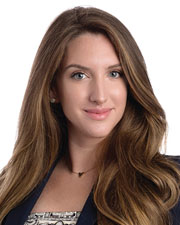 Name: Kathleen Farrell, Esq.
Title: Associate in the Real Estate Practice Group
Company Name: Certilman Balin Adler & Hyman, LLP
List up to three associations or organizations that you are presently a member of:
Member of the New York State Bar Association.
What recent project, transaction or accomplishment are you most proud of?
In April of 2020, my team and I closed a substantial transaction involving the sale of 61 acres in Farmingville, N.Y. The deal required many months of negotiations, lots of teamwork, and a bit of creativity due to the unprecedented COVID-19 pandemic. The entire process was truly a joint effort; one that I am extremely proud to have been a part of.
What conferences, books, blogs, podcasts, or influencers would you recommend to women?
I'm a big fan of John O'Leary's "Monday Motivation" newsletter. Every Monday, John shares an empowering story with an uplifting message. I find that it helps set the tone for the workweek ahead, provides a positive outlook on life, and most importantly, serves as a friendly reminder to be grateful.
What is one characteristic that you believe every woman in business should possess?
Confidence. Whether it's confidence in your work, your work ethic or your ability to form and maintain relationships, all businesswomen should be confident in their skills and know the value that each skill brings to the table.
What would you tell your daughter if she was interested in following in your footsteps?
No matter what profession she chooses to pursue, my advice to her will be simple: "outwork everyone." As professionals, most things are out of our control (there will always be someone who knows more than you, has more experience than you do, or has been given certain opportunities that you never had); however, regardless of this fact, there is always one aspect of your career that you (and only you) have complete control over….and that's your work ethic. Ultimately, hard work is a powerful thing, and it should be used to your advantage.