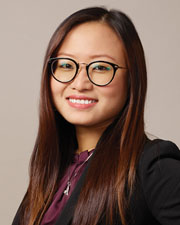 Name: Jane Chen, Esq.
Title: Attorney
Company Name: Forchelli Deegan Terrana LLP
List up to three associations or organizations that you are presently a member of:
New York State Bar Association (NYSBA)
Asian American Bar Association of New York (AABANY)
Hofstra University Alumni Association (Board member and co-chair of the Diversity Committee)
What is one characteristic that you believe every woman in business should possess?
Every woman must believe in herself, be confident in her decisions and in the actions she takes. Building a successful venture requires relentless effort, resources and faith in one's self. Confidence is an essential building block for success, especially when things do not go as planned. Effective leadership is dependent upon confidence and performance.
What would you tell your daughter if she was interested in following in your footsteps?
I would be pleased! I would advise her that to be successful she must approach the position with passion, curiosity and dedication. She must also present herself with confidence and professionalism at all times.