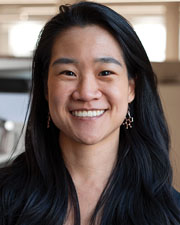 Name: Bonny Yau
Title: Senior Communications Coordinator
Company Name: FXCollaborative
What is one characteristic that you believe every woman in business should possess?
Flexibility. Society is constantly evolving, and with ever-new initiatives, technologies, perspectives, and challenges, we need to remain open and adaptable for whatever comes our way.
What would you tell your daughter if she was interested in following in your footsteps?"Try everything else first. My role as a marketing professional is enhanced and defined by my circuitous path through the worlds of architecture, art, and writing, in the U.S. and abroad. I'd tell my daughter to experience everything she can to gain real-world skills and insights along her own twisty path.
What was your favorite job and what did you learn from it?
One of my first jobs (and perhaps still my favorite) was tutoring 3-7-year-olds, sometimes groups of eight at a time. Understanding each student's needs, creating tailored approaches, and juggling short attention spans isn't unlike marketing. There's a joy in seeing my efforts spark something.
What recent project, transaction or accomplishment are you most proud of?
Every week at FXCollaborative presents something new I can be proud of. How our office has handled this current pandemic, our workgroups' diversity initiatives and events, and every award win and press mention creates a new sense of satisfaction.