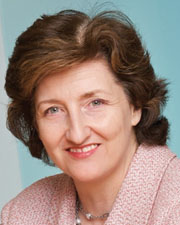 Name: Barbara Champoux
Title: Principal
Company Name: Champoux Law Group PLLC
List up to three associations or organizations that you are presently a member of:
CREW Network
WX (New York Women Executives in Real Estate)
CREW New York
What is one characteristic that you believe every woman in business should possess?
I believe women need several core characteristics to succeed in today's complex business world. Among those, is fearlessness. Fearlessness allows women to persevere and adapt as needed to forge ahead despite a myriad of challenges and hurdles. In being fearless, women are able to avoid, or at least, overcome, self-doubt, which affects women far more often than men. Fearlessness also empowers women to create or recognize, and seize opportunities despite the risk and uncertainty. The time is never perfect to embrace new opportunities, but doing so can be transformative, whether or not successful, because women learn from experience.
What was your favorite job and what did you learn from it?
As an attorney for my entire career, here is my favorite aspect of that job: Deals! A passionate and committed deal junky, I most enjoy leading complex commercial transactions with unique elements involving diverse players. My most challenging deals have usually been my most rewarding and educational. During a career managing countless deals, a few of the lessons learned are: Nothing replaces hard work, but hard work is not enough; Effective team leadership requires listening to all team members with an open mind and recognizing their skills and contributions; and Passion, courtesy and respect are critical tools.