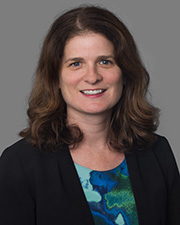 Name: Debra Sapp
Title: Special Counsel
Company Name: Stroock & Stroock & Lavan LLP
Real estate associations or organizations that you are currently a member of:
ULI (member of the Programming Committee of WLI (Women's Leadership Initiative) which is part of ULI)
International Council of Shopping Centers
In the past year, what project, transaction or accomplishment are you most proud of?
Deals certainly looked different this year. Many of our clients on both the landlord and tenant side have felt the sting of the coronavirus and we've had to think outside the box to find creative compromises. I'm particularly proud of the work I've been doing for small business owners, helping them to weather the storm. I've worked on multiple leases on a pro bono basis through organizations such as SBLRA, IMPACCT Brooklyn, VOLS and Lawyers Alliance during the pandemic to help tenants structure workable economic solutions with their landlords so that they can continue the business operations in a very uncertain business climate. I'm proud that I could help immigrant-owned businesses and mom and pop operations reduce their financial burden and remain in business.
How have you adapted and changed in the last 12 months?
Working from home full time with kids has been a challenge like none other I have faced. I have had to become more resilient and more flexible to allow space in my workday for family, and space in my family time for work, as it all blends together now. Like many working parents, I feel like each day is about doing the best you can and cutting yourself some slack. As for the work itself, I definitely miss the organic collaboration with my colleagues that happened in the office, which is something that cannot be replicated virtually. But we have all had to be more innovative and creative with how we replace those in-person interactions.
How do you keep your team motivated despite conflicts and obstacles?
I ask about how people are doing at work as well as how they are doing at home. I make a point of checking in with colleagues often. A collective sense that we are all in this together has really helped me stay motivated and I think it's helped others too. I acknowledge when things are hard, and I offer to help if I can. I try to be empathetic and kind and recognize that we have all had our lives upended. People will stay engaged and motivated when they feel connected, heard and supported.
Women have made significant progress in the last year towards equality in the workplace. How do you advocate for your fellow women in real estate?
I try to fill needs that I feel are not being met. I started the Women in Real Estate group at Stroock to meet my desire to share resources and build a community among the women on our team. Other women were quick to support this effort and now we have had almost two years of successful events and meet ups. I find reasons to get together, even virtually. We share news of events, resources and connections. I invite friends or colleagues to accompany me to events, and make introductions for them, when I can. I directly see the impact women colleagues have had on my career, from helping me make valuable connections to opening doors to a new job opportunity.
What books or social media influencers would you recommend to other women?
I like fiction and nonfiction books with women doing amazing things. Recently, I read "The Moment of Lift" by Melinda Gates about the inspiring work the Gates Foundation does to lift women out of poverty around the world. "Into the Planet My Life as a Cave Diver" by Jill Heinerth is about a female cave diver (who knew this was a profession?) and will inspire you to get out of your comfort zone. Among my recent fiction favorites are "Rodham" by Curtis Sittenfeld and "Circe" by Madeline Miller. Rodham was interesting as it featured an alternative world where Hillary Clinton becomes the U.S. President. It really delves into the double standard a woman would have to face on her rise to the top.
What steps have you taken to ensure the continued success of your firm?
I'm involved in the Stroock Women's Group and I'm the founder of the firm's Women in Real Estate Group where I share ideas and help our women lawyers with business development, client relations and ways to hone their skills. COVID-19 presented a host of new challenges. I had to quickly adapt, advising on new issues and provide counsel to help Stroock clients face the uncertainty and risks posed by the pandemic. Being able to do so definitely strengthened my relationship with clients.
Why should women consider a career in commercial real estate and related services?
There are so many different paths in commercial real estate, and as you become immersed in the industry, you see that there is something for everyone at all levels. There's nothing like working in real estate in New York City where you can see your work when you walk down the street. I am especially appreciative of the many professional organizations that recognize the contribution of women and highlight their successes. These organizations showcase how women are making their marks on each area of commercial real estate and bringing each other along.