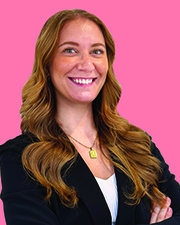 How can AEC companies recruit more women? Companies can recruit more women by retaining and promoting their current female staff. Nothing shows that you value women and their contributions more than putting them in leadership positions. Having women in senior roles shows the company values diversity and is spearheading cultural change in a male-dominated industry. In doing this, female leaders can become role models, mentors, and resources for young women.
In the past year, what project or accomplishment are you most proud of? I'm most proud of Joji, the sushi restaurant in One Vanderbilt—the tallest office tower in Midtown Manhattan. This is the third project I've worked on in the building, and we overcame logistical challenges to turn the project over early. For example, many of the finished materials were imported from Japan, which required early release of materials to mitigate supply chain challenges and extensive coordination to ensure installation of fragile elements. In the end, the space came out amazing, and the full team celebrated with an omakase experience.

Thanks for Reading!
You've read 2 of your 3 guest articles
Register and get instant unlimited access to all of our articles online.

Sign up is quick, easy, & FREE.
Subscription Options
Tags: