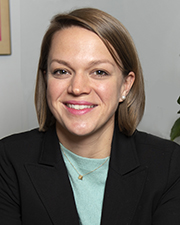 Name: Margaret Hopkins
Title: Senior Technical Director
Company Name: AKRF, Inc.
Real estate associations or organizations that you are currently a member of: ACEC New York, PWC New York
What recent project, transaction or accomplishment are you most proud of?
As project manager for East Side Coastal Resiliency, a $1.45 billion integrated coastal protection system under construction along Manhattan's East River shoreline, I take great pride in helping to bring physical, social, and economic resiliency to communities along the 2.4-mile project. The project is interwoven with parks and cityscapes in some of Manhattan's most climate-vulnerable neighborhoods – improving the physical and emotional health of waterfront residents, the safety of buildings in flood-prone waterfront communities, and equitable welfare considering the proximity of a large affordable housing project along this stretch of coastline. This precedent-setting project is an innovative example of how dense urban areas in vulnerable coastal cities throughout the country can adapt to the increasing risk of climate change.