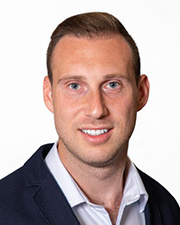 Name: Avi Begun
Title: Senior Vice President
Company Name: Meridian Capital Group, Senior Housing and Healthcare Team
What recent project, transaction or accomplishment are you most proud of?
Turnaround deals have been very challenging during COVID, but over the past year we have always been able to find a solution. As an example, I recently arranged financing for a non-cash-flowing skilled nursing facility; despite the fact that many lenders shied away from turnaround deals after the onset of the pandemic, we were able to structure a deal at a 3.75% rate with an advance of more than 90% of the purchase price.
How do you keep your team motivated despite conflicts and obstacles?
Communication is key. We've experienced numerous obstacles over the past year, but talking about these challenges openly and frequently as a team has helped us learn from one another and navigate conflicts more seamlessly. Additionally, simply working closely alongside one another amplifies motivation, whether that's pushing each other to reach our full potential or not wanting to let one another down.
Favorite quote:
"Some people want it to happen, some wish it would happen, others make it happen." – Michael Jordan