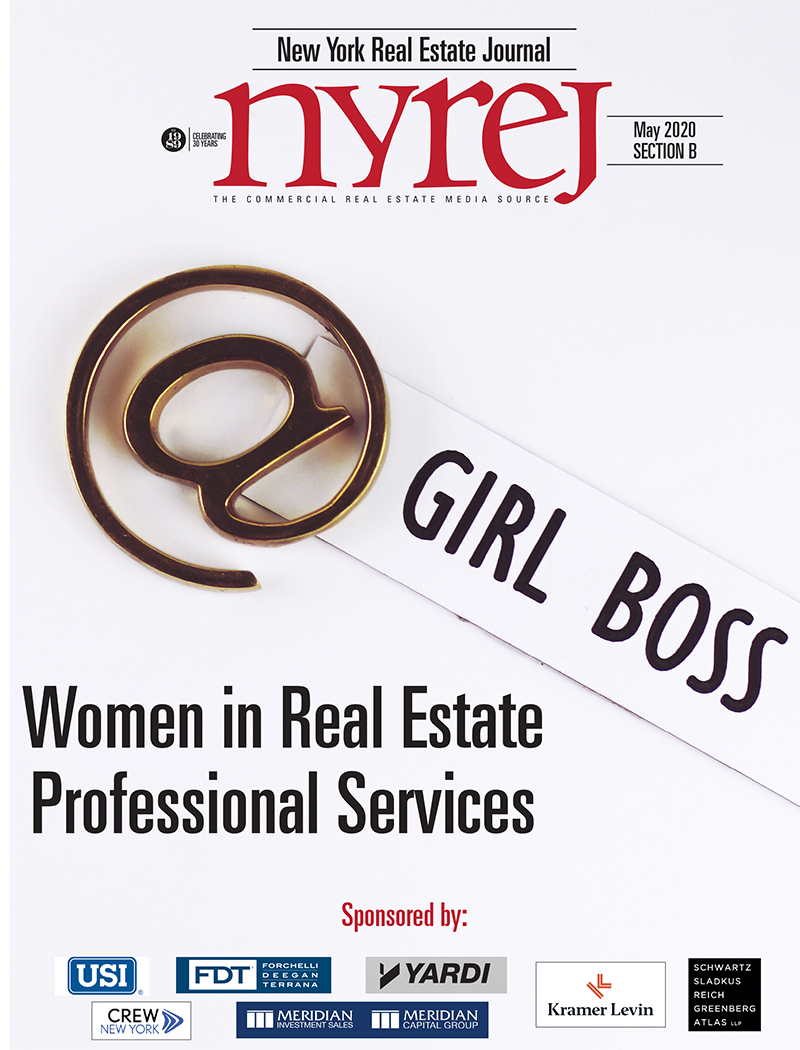 New York, NY The New York Real Estate Journal published its annual Women in Real Estate, Professional Services Spotlight. The May 19th Spotlight edition shares insight into today's real estate industry from a woman's point of view. This issue recognized achievements of women engaged in specialized industries including, 1031 Exchange, Accounting, Appraisal, Auction, Banking/Finance, Commercial Brokerage, Commercial Mortgage Lending, Credit Unions, Education, Executive Search, Insurance, Law, Commercial Real Estate Advertising, Marketing & Public Relations Agencies, and Title Insurance.
Sponsors for this edition include: Meridian Investment Sales/Meridian Capital Group, Yardi, Kramer Levin, Schwartz Sladkus Reich Greenberg Atlas LLP, Forchelli Deegan Terrana LLP, CREW New York, and USI Insurance Services.
The women featured include: (CLICK on name to view full responses)
Judy Simoncic, Forchelli Deegan Terrana LLP
Kathleen Deegan Dickson, Forchelli Deegan Terrana LLP
Andrea Tsoukalas Curto, Forchelli Deegan Terrana LLP
Jane Chen, Forchelli Deegan Terrana LLP
Jaimee Nardiello, Zetlin & De Chiara LLP
Carrie Villani, LERA Consulting Structural Engineers
C. Jaye Berger, Law Offices C. Jaye Berger
Marianne Mathieu, Fidelity National Financial
Matia Nikolovienis, Cohen & Perfetto LLP
Shabana Rizvi, Lynx Bank Mortgage LLC
Bonnie Porzio, Triumph Construction Corp.
Christine Chipurnoi, USI Insurance Services
Meridian-investment-sales">Shallini Mehra, Meridian Investment Sales
Meridian-capital-group">Nicoletta Pagnotta, Meridian Capital Group
Vivian Dalencour, Libra Title Agency LLC
Alicia Koledin, AKcelerate
Danielle Volpe, Cornerstone Land Abstract
Komal Bhargava, Zinkovetsky Law Firm
Patricia Cleary, Rosenberg & Estis, P.C.
Lisa Knee, EisnerAmper LLP
Caroline Saba, UpSpring PR
Elizabeth Schrero, Seyfarth Shaw LLP
Barbara Champoux, Champoux Law Group PLLC
Adelaide Polsinelli, Compass
Tami Hausman, Hausman LLC
Jessica Richer, Hanna Commercial Real Estate
Galiya Khusniyarova, Tri State Commercial Realty
Kathleen Farrell, Certilman Balin Adler & Hyman, LLP
Michelle Lala, RM Friedland
Katelin Van Voorhis, RM Friedland
Mia Abdou, RM Friedland
Jamie Greenfield, Troutman Sanders
Michelle Galindez, Syska Hennessy
Shari Laskowitz, Ingram Yuzek Gainen Carroll & Bertolotti, LLP
Shruti Shah, KPMG LLP
Mindy Stern, Schwartz Sladkus Reich Greenberg Atlas LLP
Katarina Sundqvist, Greiner-Maltz Investment Properties
Samia Farah, Greiner-Maltz Investment Properties
Michelle Marie Zere, Zere Real Estate Services
Julia Wachter, Kramer Levin
Meigan Serle, Kramer Levin
Nina Roket, Olshan Frome Wolosky LLP
Karinta DiMartino, Statewide Abstract
Jennifer Lofaro, Bleakley Platt & Schmidt, LLP
Joan Riklan-Simon, Admiral Real Estate Services
Esti Broyde, Roey Realty LLC
Jocelynn Tuite, First Nationwide Title
Susan Baldwin, CNY Pomeroy Appraisers, Inc.
Lisa Fingar, SWBR
Bonny Yau, FXCollaborative
Leslie Berkoff, Moritt Hock & Hamroff LLP
JoAnn Potrzuski Cassidy, Julie & Co Realty
Diana Brummer, Goodwin
Trisha Connolly, B6 Real Estate Advisors
Marisha Clinton, Avison Young