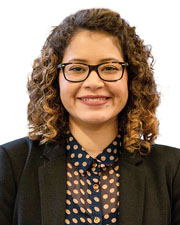 Name: Marli Mata
Title: BIM Specialist
Company Name: LERA Consulting Structural Engineers
List up to three associations or organizations that you are currently a member of:
PMI Project Management Institute
WIB Women in BIM
What recent project or accomplishment are you most proud of?
I am very proud of the team effort the office has made throughout the pandemic. My department went fully remote in March. I am working on the Cheongna International City Tower in South Korea, a new 1470-ft. (448 m) tower which will be the tallest in Korea. Since I am in New York and most of the design team is working from LERA's new office in Seoul, I thought it would be a challenge, but we have communicated through videos, drawings, late phone calls, Revit crash courses and we have accomplished so much working with BIM.
What conferences, books, blogs, podcasts, or influencers would you recommend to women?
This year I have grown so fond of podcasts! I recommend 'Unlocking Us with Brené Brown' where she shares her journey with vulnerability in an unpolished way; and 'The Marie Forleo Podcast' brings her spark and humor to interview great guests who are accomplished in motivation, creativity, business, health and so many other fields.
What is one characteristic that you believe every woman in business should possess?
I think having an entrepreneurial spirit. Great women inspire others through their vision and express it with creativity, assertiveness, boldness while enhancing teamwork.