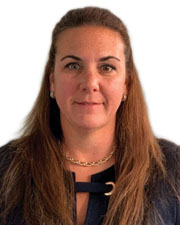 Name: Marisa Queirolo
Title: Accounting Director
Company Name: ACC Real Estate Services Inc.
What would you tell your daughter if she was interested in following in your footsteps?
I would be honored as a role model for my daughter to follow in my footsteps and choose a career she is passionate about. I could share my work experiences and offer resources. I would teach the importance of setting goals, dedication, and working hard to be above standards. Personal growth, success, and achievements are endless to those who desire.
How are you networking during the pandemic?
It is important to keep communications open and relevant as we navigate through the global pandemic together. I continue to make efforts to reach out to clients via email and phone and assure them we are here to help them with all their needs should they require assistance. It is important to share knowledge pertaining to their property and keep them apprised of local government and state actions. Share suggestions that may have an impact on current and future business.
What is one characteristic that you believe every woman in business should possess?
I believe every woman in business should possess confidence. Believe in yourself, your abilities, and know your worth - the rest will follow. You can achieve what you set your mind to and there are no limits to your growth or your success.