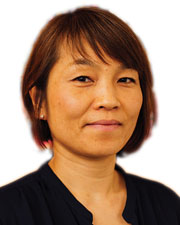 Name: Makiko Sadamori, NCIDQ
Title: Senior Interior Designer
Company Name: Ronnette Riley Architect
List up to three associations or organizations that you are currently a member of: International Interior Design Association
What recent project or accomplishment are you most proud of?
I am the lead interior designer for the MTA Long Island Rail Road (LIRR) back of house operations as part of the overall Penn Station Critical Improvements project. LIRR operations will be primarily at the back of the retail concourse and supported from lower levels of One Penn Plaza. The new facilities will house the LIRR transportation management and train crews of both LIRR and MNR along with numerous other components of railroad operations. Overlapping common functions will be shared instead of duplicated. The diverse elements of the design have been optimized to coordinate with the new enhanced public retail concourse space.
What would you tell your daughter if she was interested in following in your footsteps?
I would tell my daughter that interior design is a very fulfilling career. I have designed award-winning high-end apartments and townhomes, museums, courthouses, higher education facilities, firehouses, retail stores, day care and senior centers and offices for a variety of clients. I've even designed furniture that was sold at boutique furniture stores in Japan. Being an interior designer has been very rewarding.