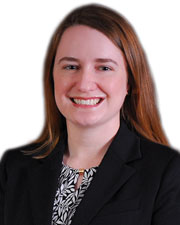 Name: Lindsay Brownschidle, RA, PMP
Title: Sr. Project Manager/Associate Principal
Company Name: Wendel
What recent project or accomplishment are you most proud of?
A recent project I'm proud of is the completion of construction on the new Bus Operations & Maintenance Facility for the Pioneer Valley Transit Authority in Springfield, MA. I was the project manager for design through construction for Wendel as we were the architects and engineers of record for the project. While the project was large and complex, it was rewarding to work with a great team to make it successful.
What conferences, books, blogs, podcasts, or influencers would you recommend to women?
The podcast I always recommend is Happier with Gretchen Rubin. The podcast has thoughtful advice on how to be happier and create good habits that apply at both work and home.
What is one characteristic that you believe every woman in business should possess?
Belief in herself. Every woman in business should believe that she is fully capable of achieving whatever she sets out to do. It's hard to get very far if you don't believe that you can be successful. I credit my parents and all-girls high school experience at Buffalo Seminary for helping to instill that characteristic in me.