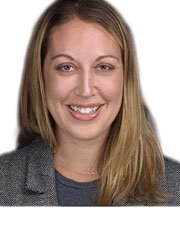 Name: Katherine DeMercurio
Title: Director of Marketing
Company Name: EverGreene Architectural Arts
List up to three associations or organizations that you are currently a member of: SMPS-NY
What is one characteristic that you believe every woman in business should possess?
Determination. Women in the Building Services industry must possess the drive and ambition to continue pushing the industry forward, now more than ever. We need to support one another to have more female leaders at the table. I often feel I share the same ideas repeatedly but have recently found that both repetition and patience are just part of being determined. Don't give up ladies!
What trend(s) will dominate your industry in the next year?
Technology. The pace of technology has never been faster. COVID-19 has taught us all that we can work from home and forced the more "traditional" leaders to invest in tools and training for their employees, as the result provides the ability to work from anywhere, at any time, and productivity is increased. This has changed the work routine forever. We will not be commuting into the office every day anymore. I am excited to learn as much as possible to forge new technology and share improved efficiencies with my colleagues.