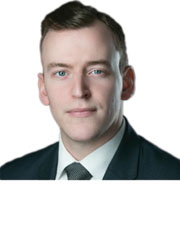 Name: Scott Steinel
Company: Emerald Creek Capital
Title: Senior Associate
Education: Hofstra University: B.B.A Marketing
Which project, deal, or transaction was the "game-changer" in the advancement of your career?
The deal that was a "game-changer" in the advancement of my career was an acquisition loan I provided on "The View" in the St. George neighborhood of Staten Island. The 59,000 s/f mixed-use building had recently been completed and the buyer was looking to use an expiring 1031 exchange toward the acquisition. This deal was the first we had closed with the brokerage shop that brought it to me. Thanks to Emerald's execution we continue to close deals regularly with the same group.
What do you like most about your job?
The variety of scenarios I see is one of my favorite parts of my job. As a bridge lender I see all sorts of scenarios and property types come across my desk. At ECC, we have provided loans in over 30 states on most asset classes. Understanding local economies and helping borrowers execute on opportunities while mitigating risks keeps every day from getting monotonous.