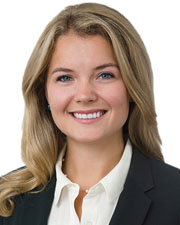 Name: Sarah Mae Selnick
Company: Cignature Realty Associates Inc.
Title: Licensed Real Estate Salesperson/Downtown Manhattan Specialist/Investment Sales
Education: BA in English from Washington and Lee University in Lexington, Virginia
What led you to your current profession?
From a young age, I would accompany my grandfather and father to their real estate properties and became intrigued by the industry. After interning extensively in marketing, research and real estate analysis, I became a research analyst at a leading global real estate firm, were I developed reports on commercial real estate deals in various Ohio markets, performed space lease abstractions, organized due diligence materials and created property marketing literature. This led me to my current role at Cignature Realty, where I dedicate my efforts on the firms Downtown Manhattan territory, and most recently, the quickly developing Brooklyn market.
What do you like most about your job?
I enjoy and appreciate that I have the opportunity to interact and build meaningful relationships with a diverse group of professionals both in the office and in the field.
Who or what inspires you?
I'm inspired by other women who are at the top of their league in New York commercial real estate. I like to keep myself updated and research their journey and career trajectory whenever possible.
What social media platform do you use the most professionally?
LinkedIn