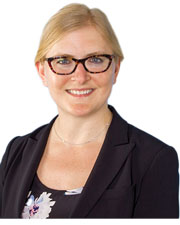 Name: Krista Patterson
Company: Robinson+Cole
Title: Counsel
Education: Received J.D. and LL.M. in Comparative and International Law from Duke University School of Law
Which project, deal, or transaction was the "game-changer" in the advancement of your career?
When I was a junior associate, I represented an influential off-Broadway theater in the acquisition of a three-theater condominium in a ground-up high-rise construction project and related financing. I was given a significant amount of responsibility in this complex transaction, and I gained a great deal of experience in negotiating with parties with competing interests. Each time I attend a show at the theater, I am proud of my role in the successful completion of this transaction.
How do you contribute to your community or your profession?
One way in which I try to engage in and give back to my community is by involvement in various initiatives of my alma mater, Duke University. I am an active member of the Duke Alumni Association, DukeNY Women's Forum and Duke Real Estate Partners, and I was recently nominated to the National Leadership Council of the Duke Children's Hospital, which I will join later this year.
Who or what inspires you?
A significant amount of my practice is in the affordable housing finance space, and I am greatly inspired by the dedication of the people in this community to providing much-needed affordable housing. These complex transactions involve a large number of parties working together toward a common goal and could not be accomplished without the talent and dedication of everyone involved.