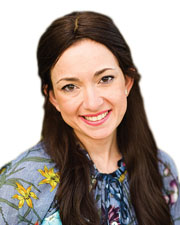 Name: Esti Broyde
Company: Roey Realty LLC
Title: Principal
Education: B.S. BUSINESS/ACCOUNTING-Adelphi University M.S. Finance/Economics Brooklyn College
Which project, deal, or transaction was the "game-changer" in the advancement of your career?
I had 24 hours to bring an offer when there was another offer on the table about to go into contract. I got the seller a higher offer within 24 hours, signed in 48 hours and closed in 10 days.
What led you to your current profession?
I started out working as an auditor in a mid-size public accounting firm. A few years into my career, I got the opportunity to teach accounting in Brooklyn College in the evening while also selling life insurance. I loved the sales aspect but not the product I was selling. A neighbor of mine, at the time, had a rental business and asked me to be an agent. I loved the transition to real estate. I changed from rentals to investment sales and the rest is history.
What do you like most about your job?
The rush of closing a deal.
Who or what inspires you?
My mother, who has been on the management side of real estate for 40+ years. I admire her tenacity to get ahead. I wouldn't be where I am today if not for her confidence in me and constant guidance.